About The Scene
The Scene is a print and online publication written and designed by students at St. Louis Community College at Forest Park. The office is in F Tower, Room 408. The telephone number is 314-644-9140. The email address is the_scene_fp@yahoo.com.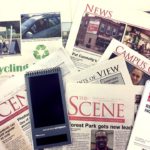 All text, photos, graphics and other content are property of The Scene and may not be used without permission. Views expressed are not necessarily those of St. Louis Community College, its Board of Trustees or administration.
The Scene welcomes opinion pieces and letters to the editor. They should be signed and include the writer's student or staff A number. They can be mailed to the above addresses or delivered by hand. We reserve the right to edit for length and taste.