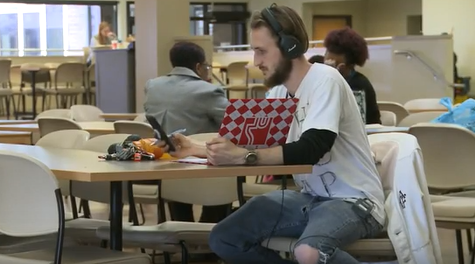 By Timothy Bold
The Scene staff
KSDK news featured a Forest Park student in a recent segment on a Missouri budget proposal that could result in tuition increases and program cuts.
Connor Smith, 28, who goes by Connor O'Shay for photography and acting, told TV reporter Grant Bissell that he opposes Gov. Eric Greitens' proposal.
"You're talking money out of my pocket," Smith said in the segment, sitting at a table in the Forest Park cafeteria, earphones around his neck.
Greitens has proposed a $28.8 billion state budget for the 2018-19 fiscal year that would reduce funds for higher education by $70 million or 7.7 percent.
The KSDK segment with Smith aired on Jan. 23. Bissell conducted the interview earlier that day after Smith saw his camera equipment and struck up a conversation.
Bissell also talked to St. Louis Community College Chancellor Jeff Pittman, who explained that last year's budget already reduced STLCC funds by $5 million, forcing the college to lay off faculty and staff.
"We've been cut to the bone," Pittman said, adding that current proposal would directly affect students. "We'll be forced to raise our tuition."
Smith is a photography and emergency medical technician student who wants to be a paramedic someday. He told Bissell he has struggled in recent weeks, even staying in a homeless shelter after losing his job.
Smith ended his TV appearance by looking into the KSDK camera and speaking directly to Greitens, saying, "You come after our education dollars, we're coming after you with our votes."
After the interview, Smith decided to get more involved in state politics. His first move was organizing a march on Feb. 9 on the Delmar Loop in University City, calling for Greitens' impeachment.