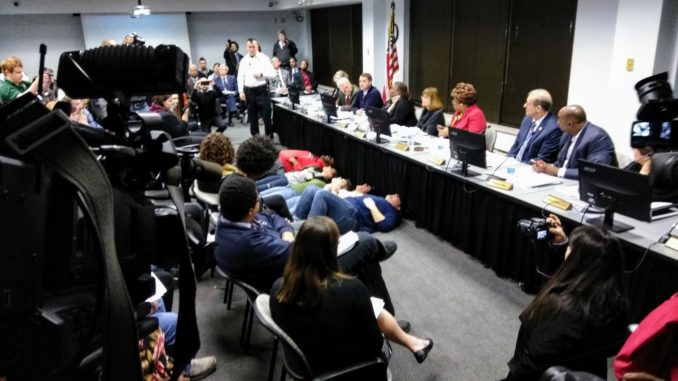 By Joshua Phelps
The Scene staff
Many students, faculty and staff are furious at St. Louis Community College Board of Trustees for approving severe budget cuts, including plans to lay off up to 70 full-time faculty members on its four campuses.
"I feel a lot of that is a misuse of money," said Wade Schaffner, 26, a general transfer student at Forest Park. "I feel like it's easy to say 'Let's cut 70 staffers' when people are spending money on vanity projects."
Also unhappy was Brett Williams, an adjunct art professor at Forest Park and member of a Service Employees International Union committee that has been trying to negotiate an adjunct contract with the college.
He said faculty reductions will cause the college to lose some great teachers and lower the quality of education for students.
"I think it's tone-deaf," Williams said. "The board and administration are acting as if they know best. They're ignoring the will of the students and the will of the faculty. "
The Board of Trustees voted for the budget cuts at a packed meeting on Nov. 30 at STLCC's Cosand Center headquarters.
About 15 students and faculty members spoke out against the layoffs. Audience members held up signs reading "We agree" in defiance of the board's rule against clapping or cheering during the public-comment period.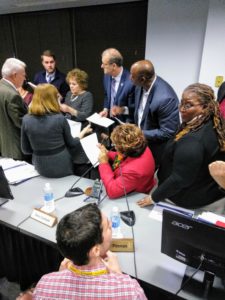 The meeting became chaotic when students sitting in front locked arms and began chanting. At one point, several students laid down on the floor in front of the table where board members were sitting.
"When education is under attack, what do we do? Stand up, fight back," the protesters chanted. Then came, "Board of Trustees, you can't hide. We can see your greedy side."
Board members eventually had to huddle together to conduct business because the crowd was so loud.
College administrators say the budget cuts are necessary to deal with a $5 million reduction in state funds, a 35 percent enrollment drop between 2011 and 2015 and changes in federal accounting standards.
"In the coming weeks, you'll continue to hear from me about (the) next steps, and I will continue to listen to you as we work through this process," Chancellor Jeff Pittman said in a phone interview the day after the meeting.
"Change is necessary, but I also understand that change can be painful. With civil dialogue and collaboration, we can face what may pain us and come through it together knowing we've carefully reshaped a beloved and trusted institution."
Speakers at the Nov. 30 meeting included Chris Smejkal, assistant professor of communications on the Meramec campus, who made a passionate plea.
"If you go forward with reducing the life blood of this college by 20 percent and reducing remaining 80 percent pay and benefits, you will not only have to face yourself in the mirror, but you will have destroyed people's lives," he said.
Forest Park English faculty professor Melody Gee said a prerequisite writing program that she had worked hard to develop with other professors would not be implemented with reductions in full-time faculty.
"You stand not only to eliminate individual faculty, but all our works and progress," she said.
Meramec biology professor Elizabeth Granier said her degree-seeking program was at risk under the cost-cutting plan.
"I'm one of those people (you're) going to get rid of," she said. "I wanted to see you tonight, and I want you to look me in the eyes."
The board ultimately postponed decisions on deactivation of programs until its January meeting.
"They wanted some discussion," Pittman said.
Less than a week after the meeting, the college announced two voluntary separation incentive programs, also known as "buyouts." The first is available to faculty and staff, who would have a choice of three exit dates next year.
The second option, for faculty only, would provide a "cash payment equal to 50 percent of a faculty member's contracted base salary, up to a maximum of $50,000, and one exit date of June 2018."
Emily Neal, vice president of STLCC National Education Association, the union that represents full-time faculty members, said buyouts are better than straight layoffs.
"At the end of the day, we still remain in opposition to any (reduction in force)," she said.