By Timothy Bold
The Scene staff
An LGBT student group known as Voices is making a comeback at Forest Park.
President Willow Rosen, 29, is inviting students who are lesbian, gay, bisexual, transgender, queer, intersex, asexual and pansexual to get involved.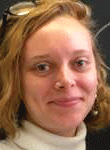 "Our presence is important," she said. "We need to start a conversation about social issues in the future."
Rosen, a general transfer student, is queer.
The group needs 10 members to become an official student organization, according to Campus Life.
"Some students have expressed an interest, but we need a few more to make a student group," Rosen said. "There haven't been any meetings."
Voices has functioned on and off for more than 20 years at Forest Park. Members have participated in the St. Louis Pride Parade and sponsored pizza parties and other efforts to raise LGBT awareness.
The group has been on hiatus since 2015, when it was advised by Nakita Anthony, a staff member in Campus IT; and Kirk Martin, facility supervisor physical education.
"The hardest thing to do is to get students to come out and join," Anthony said. "We held membership drives, but no students joined."
Voices was formed over 20 years ago by Charles Koehler, who retired from the Forest Park media services department.
The idea was to help create a safe environment for LGBT students, encourage diversity and freedom of expression.
Today, the campus has gender-neutral bathrooms and a Safe Zone program that designates "allies" to help LGBT students find refuge and resources.
"The visibility is important because of our current climate of politics," Rosen said. "It's very disheartening to the community."
Provost Larry Johnson has been at Forest Park for only a year, so he wasn't familiar with Voices, but he supports the group's cause.
"I welcome the opportunity to meet with the leaders to get an understanding on how I can support their initiatives and hear about ways we can improve their experience on campus," he said.
Other St. Louis Community College campuses also have LGBT groups, including Gay Straight/LGBT at Wildwood and Friendly Colors at Florissant Valley.
Martin said straight students also are welcome to get involved with Voices.
"Any person can join the group to support their friends and family," he said. "It's not just about the LGBTQIAP."
Anthony would like to see four or five students take responsibility for recruiting members and being consistently active.
Martin said groups run better with both freshmen and sophomores, so younger ones can replace those who graduate.
Even after students join a group, it's not always easy getting them to attend meetings or take time to set goals and plan events.
"The students graduate or get busy with their classes and daily obligations," Martin said.
For more information, email Willow Rosen at wrosen2@my.stlcc.edu or kmartin@stlcc.edu.