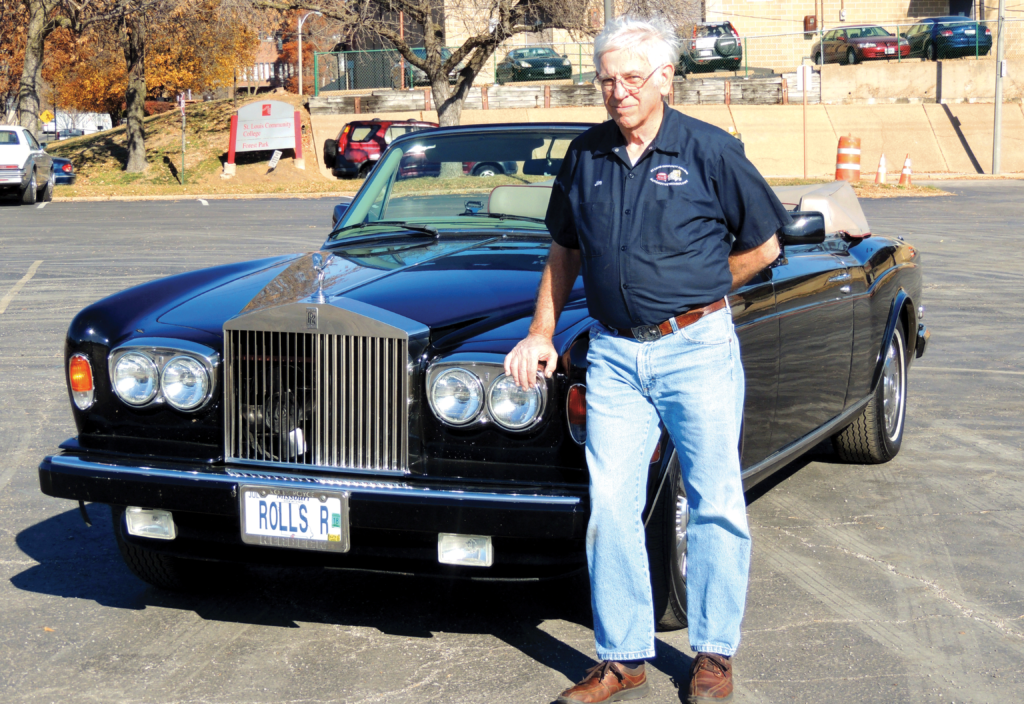 By Joshua Phelps
The Scene staff
When Jim Conley pulls into a parking spot at Forest Park, people aren't staring at the 78-year-old college student. They're staring at his car.
Sometimes it's a Rolls-Royce. Sometimes it's a Bentley.
Conley has bought seven luxury cars since he retired as a U.S. Army contractor in marine electronics 14 years ago.
"You don't get into it for an investment," he said. "You get into it because you like it."
Conley is a student in St. Louis Community College's automotive technology program.
He bought most of his five Rolls-Royces and two Bentleys on eBay. They include:
A blue and silver 1964 Rolls-Royce Silver Cloud III.
A Kelly green 1978 Rolls-Royce Silver Shadow II.
A coffee and tan 1980 Rolls-Royce Silver Wraith II.
A black 1988 Rolls-Royce Corniche convertible.
A black 1989 Rolls-Royce Silver Spur.
A coffee and cream-colored 1949 Bentley Mark VI.
A green 1953 Bentley R Type.
Conley keeps his cars in the garages of condominiums that he owns and rents out.
"My favorite car is the one I'm driving that day," he said.
Conley has driven his cars from Canada to Texas to California, meeting many admirers along the way.
Some people ask to take photos of his cars. If they're nice enough, he lets them climb into the driver's seat.
What about women admirers?
"I'm not worried about the ladies," Conley said. "I've been happily married for 52 years."
He and his wife, Cecelia, have two sons and three grandchildren.
Her favorite cars are the Mark VI Bentley and the Silver Cloud III Rolls-Royce.
Cecelia has gradually warmed up to Conley's car-collecting habit.
"At first, I'm not too excited about it, but after he gets them, I love them," she said. "They ride so good, so smooth and so quiet. They are beautiful."
As a U.S. Army contractor in marine electronics, Conley repaired everything from radar to autopilot systems on ships. He retired in 2003.
Seven years later, Conley enrolled in college for the first time. Since then, he has learned a lot about taking apart and fixing vehicles.
Conley isn't one to brag about his own car collection. When he met with a reporter, he only wanted to talk about the STLCC automotive technology program.
"This school has the best thing going," he said. "They come in here and they learn how to turn wrenches. They start you from nothing and build you up until you can physically go out and do the job."
Sometimes Conley lets other students work on his luxury cars in class.
On a recent afternoon, he watched as Alexander Sirles, 19, adjusted the toe on his Rolls-Royce convertible.
Sirles is a first-year student who went from not knowing anything about repairing cars to rebuilding his own 1995 Camaro Z28.
"If something breaks, I'll fix it in my backyard," he said.
Sirles is working part time at Dobbs Tire & Auto Centers and hopes to become a full-time technician after graduating.
Automotive technology instructor Joe Jackson said the program focuses on "career readiness" and helps students better understand the inner workings of vehicles.
"It provides them with automotive skills and soft skills to be successful," he said.
Jackson noted that full-time students in the program get deals on tools from third-party vendors, and faculty members form relationships with employers to help students find employment.
The need for automotive technicians is dire, he said, but the skills they learn in class can also be applied to other fields.
Students typically work on cars owned by faculty and staff, who are only charged for parts. This gives automotive technology students real-world experience.
"If it's something that interests somebody, it's a great field," said program chair Richard Anthes. "You've got to have passion for it."