By Joshua Phelps
The Scene staff
A St. Louis Community College public forum on Nov. 14 featured a protest march, metal detectors, strict rules of conduct, a long line of speakers and heavy police presence.
All were the result of last month's meeting, which made headlines because Wildwood adjunct faculty member Steve Taylor was handcuffed and escorted out for allegedly being disruptive.
"It's almost like they don't want to hear what we have to say," said Florissant Valley music major Erisha Tyus, 32, who marched with the protesters. "It's ridiculous, considering the students are the ones paying for everything."
Tyus' mother is an adjunct represented by Service Employees International Union, which is trying to negotiate a contract with the college.
The forum was held to allow the public to comment on STLCC budget problems and what its Board of Trustees is considering to solve those problems, said Nez Savala, communications manager of marketing.
More than 15 people spoke at the forum, mostly faculty members. Almost all opposed the idea of cutting staff, particularly in light of the college's plan to build a $39 million nursing and health sciences building on the Forest Park campus.
"If faculty aren't needed for essential and critical functions, who is?" asked Patricia Maniaci, English professor on the Meramec campus. She called board members "out of touch."
Another speaker, Forest Park instructional librarian Jeff Papier, also advised the board to look at options other than layoffs.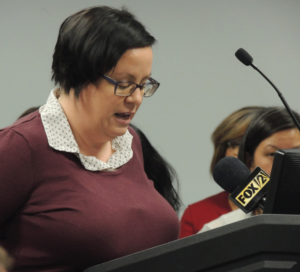 "I believe that when you destroy a village to save a village, perhaps the village will remain destroyed," he said.
One of the few citizen speakers was Marietta Williams, mother of a Florissant Valley graduate.
"How can you justify building a multimillion-dollar building when you're talking about cutting 70 full-time faculty members?"
She later added, "Maybe you need to consider cutting the wages of some of the fat cats of the administration before you cut faculty."
Before, during and after the forum, about 20 adjuncts, students and union representatives lined Broadway, across from Busch Stadium and outside STLCC's Cosand Center.
They were protesting what they say is the college's refusal to offer adjuncts a contract with fair wages and job security. Several held signs that read "honk for adjuncts."
They also chanted, "More support for adjuncts," "No poverty wages" and "Chancellor Pittman, you can't hide, we can see your greedy side," speaking of STLCC Chancellor Jeff Pittman.
Three significant areas are contributing to college's budget problems, according to a board working document that Savala emailed to The Scene:
•A $5 million reduction in the college's budget from the state of Missouri due to a decline in tax revenue.
•New federal accounting standards that require STLCC to cover an unfunded portion of the public school retirement system for employees. This has resulted in the college being out of compliance with board policy for unrestricted net assets or reserves.
•A 35 percent decline in enrollment between 2011 and 2015.
"STLCC has taken steps to reduce its budget," stated a press release on the college's website. "Such as a voluntary separation incentive plan for full-time employees; reduced operating costs by reviewing and analyzing spending; freezing non-critical and unfilled positions; selling the downtown administrative offices at the Cosand Center; and a 20 percent reduction in the number of administrators within academic affairs and at the leadership level."
The college also has floated the idea of laying off about 70 full-time faculty members (18 percent).
Only 70 people were allowed in the Cosand Center boardroom for the Nov. 14 forum. Others watched through a Skype feed in an overflow room. In the building lobby, police scanned everyone with hand-held metal detectors.
A notice emailed to faculty and staff had already laid some ground rules. Speakers had to sign up before the forum and limit their comments to two minutes.
"No demonstrations of any kind (e.g., applause, booing, etc.) will be permitted during or at the conclusion of any speakers' presentation," according to the email. "A person addressing the board shall refrain from making insults; using obscenity or profanity; attacking any person in his/her personal capacity; physical violence or threats; or making comments that are unduly repetitious."
Taylor, who formerly served on the SEIU contract-bargaining committee, attended the Oct. 19 board meeting with other adjuncts. He voiced his concerns about people being prohibited from clapping for student or faculty speakers.
Taylor was walking down the center aisle toward board members when acting Chairman Rodney Gee asked him to leave. As an STLCC police officer grabbed Taylor from behind, Taylor kept moving and hit the floor. Taylor was handcuffed, escorted out and taken to the hospital to be treated for injuries.