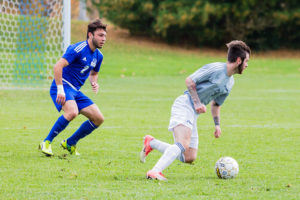 By Timothy Bold
The Scene staff
The national championship dream is over for the previously unbeaten St. Louis Community College men's soccer team, which was upset this week by No. 8-seed Pima Community College.
The Archers entered the 12-team NJCAA tournament seeded first and won their first game of pool play Nov. 13, a 1-0 victory over Illinois Central College. But two days later, they lost 3-1 to Pima of Arizona. STLCC finished 23-1.
Freshman Daisuke Takanaka's second goal of the game, in the 59th minute, proved to be the game-winner for Pima, which advances to the national semifinals.
Conor McArthur scored for STLCC, his 19th goal of the season, in 86th minute on an assist by Noah Vezzu.
"The season was amazing, and I don't regret anything," sophomore co-captain Chris Eduardo said after the loss.
David Silva stopped five of six shots on goal for Pima (19-4-3), while the Archers' Braedan Passalis stopped one of four shots.
In a rematch of their Region 16 championship game, STLCC defeated Illinois Central 1-0 on a rebound goal by freshman Savino Livornese in the 31st minute. Mattias Tonking assisted.
Stellar goalkeeping by Passalis, who had four saves, helped notch STLCC's 17th shutout of the season.
In the regional championship game Nov. 4 at Florissant Valley, the Archers used a blistering attack to defeat Illinois College 3-1. Eduardo scored the game-winner on a penalty kick in the 25th minute of the first half, one of two goals he scored.
He finished his STLCC career with 13 goals this season.
Co-captain Connor Summerhill, one of STLCC's nine British players, said of Illinois Central, "They kept their shape well, but when it came down to it we played better."
Eduardo added: "I was surprised they won their region. I think we played very good. They weren't that competitive."
Junior Yabawana felt the team "came with a mentality that we weren't going to lose."
On goals for the season, Summerhill said, "Last season left a bitter taste in our mouth. We came out with fire in our belly."
In his fifth season, coach Tim Mosby made his first appearance in the nationals. Before pool play, he said, "It's my first national and it's not going to be the last one."