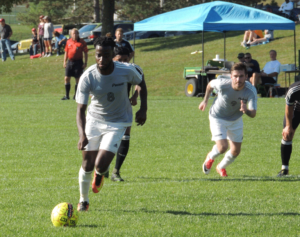 By Timothy Bold
The Scene staff
The St. Louis Community College men's soccer team is one game away from reaching the NJCAA Division I tournament for the first time since 1989.
With a hard-fought 2-1 win over Jefferson College of Hillsboro on Oct. 28 at Florissant Valley, the unbeaten Archers extended their winning streak to 21 games and maintained the No. 1 ranking in the country. Schoolcraft of Livonia, Mich., is the only other remaining unbeaten team in the country.
The Archers, among 24 teams still alive, will play Illinois Central College at 1 p.m. Nov. 4 at Florissant Valley for the Central District championship. The winner will advance to the nationals at Prescott, Ariz., on Nov. 13-18.
STLCC earned the Region 16 finals berth against Jefferson College with an 8-0 win Oct. 21 over MCC-Blue River of Independence, Mo., and a 2-1 victory Oct. 24 over Crowder College of Neosho, Mo.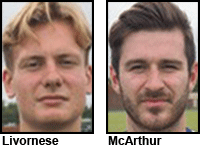 In a tense battle on a frigid afternoon, the Archers broke a 1-1 tie against Jefferson College in the 54th minute on a header by freshman Savino Livornese on Conor McArthur's free-kick assist. Goalkeeper Braedan Passalis faced three shots and improved to 20-0.
In the Region 16 semifinals against Crowder, Chris Eduardo broke a 1-1 tie in the 73rd minute on a setup by Livornese. Passalis faced only two shots on goal.
In the quarterfinals, Eduardo and Dyan Chapa each had two goals in the rout over MCC-Blue River.
"I don't want to hear about our success right now. Anything can happen on any given day," coach Tim Mosby said after the win over unranked Jefferson College — the Archers' second Region 16 tournament title in a row.
Chapa added: "I feel like the difference in that was they had nothing to lose, and we had everything to lose." In a game Sept. 19, the Archers dominated Jefferson in a 4-0 victory.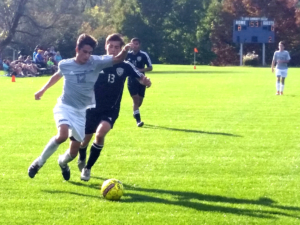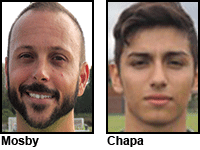 Unranked Illinois Central College of East Peoria (10-7-2) pulled off a major upset in the Region 24 final Oct. 28, defeating No. 18 Parkland College of Champaign, Ill., in a 7-6 shootout that broke a 0-0 tie. A year ago, Parkland defeated the No. 8 Archers 3-1 in the Central District championships.
Eduardo, a sophomore co-captain who has 11 goals this season, said, "I'm buzzing and pumped for Saturday."
Referring to Illinois Central's overtime victories in both the semifinals and finals, Eduardo said, "We can't let the (championship) game get to that point. We have to take care of business during regulation."
STLCC seems poised for the challenge, with players feeling good about its chances this weekend. Eduardo called the team's practice on Halloween "amazing — the best by far this season. Everyone looked crisp and ready to play."
Freshman Chapa agreed, saying, "we looked sharp, cleaning up some things like passing, keeping possession and distributing when needed to our wingers."
McArthur, the freshman midfielder who set up the game-winner over Jefferson, leads the team with 18 goals and 12 assists.
Chapa called McArthur "a finisher from head to toe."
Along with the Archers, Mosby is making his first run at winning a national championship.