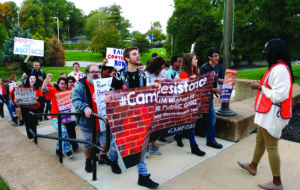 By Joshua Phelps
The Scene staff

It's a situation of he-said, she-said between St. Louis Community College and adjunct professor Steve Taylor.
Taylor, a union activist, and his supporters say he was simply voicing his opinion at an STLCC board meeting when a college police officer tackled, handcuffed, injured and arrested him on Oct. 19.
"I was approached and grabbed from behind," Taylor said. "No one introduced themselves as law enforcement to me until I was on the ground."
The college had a different interpretation. A statement emailed on Oct. 20 said Taylor disrupted the board meeting, refused to leave when asked to do so and charged toward a table where board members and the chancellor were sitting.
"College police responded by restraining the individual before he reached the table," the statement read. "The individual was subsequently arrested by St. Louis Metropolitan Police."
Before the meeting, Taylor taught math on the Wildwood campus. He also was a member of Service Employees International Union and its adjunct bargaining committee.
In a telephone interview with The Scene on Oct. 24, Taylor declined to discuss his job status, saying his attorney had advised against it.
The St. Louis Post-Dispatch reported that Taylor received a "notification of no trespass" from the college and he assumed that meant he was fired, but a college spokeswoman told the newspaper he was still employed.
"We can't talk about this because it's a personnel issue," Chancellor Jeff Pittman told The Scene. "We have to stand by our statement."

'No contract, no peace'
STLCC's adjunct faculty voted to unionize in the fall of 2015 and started contract negotiations in the spring of 2016. However, an agreement hasn't been reached, mostly due to job security and pay issues.
Tempers flared Oct. 23, when nearly 40 students and adjuncts marched with signs on the Meramec campus. They chanted, "If we don't get it, shut it down," and No contract, no peace," prompting drivers on Big Bend to honk their horns in support.
Protesters marched to the administration office with a giant report card giving Pittman an "F" for commitment to students and faculty and an "A" for prioritizing buildings over people.
At one point, students faced off with Meramec Provost Carol Lupardus, who told them, "The adjuncts are currently in negotiations with the district."
Students then drowned out her words by yelling, "That's outrageous," "I don't want any sound bites from you," and "Stand with us." Lupardus was led away by a college police officer.
"If we don't have faculty, then we have no programs because of lack of students," said adjunct supporter Corey Anderson, 27, a music education major. "They need stability. That's why I'm here for my instructors."
Taylor didn't participate in the march, but Forest Park art professor Brett Williams did. He's an adjunct and member of the SEIU bargaining committee.
Williams also attended the board meeting where Taylor was arrested. He said Taylor didn't charge toward the board, but that police tripped him, causing him to fall.
Williams described the action as "police brutality" and compared it to treatment of Black Lives Matter supporters in recent years.
"Police are out of control," he said. "They are attacking professors at board meetings. They are attacking people on the streets. And for the community college not to react to that and not come to the professor's side, I think that's outrageous."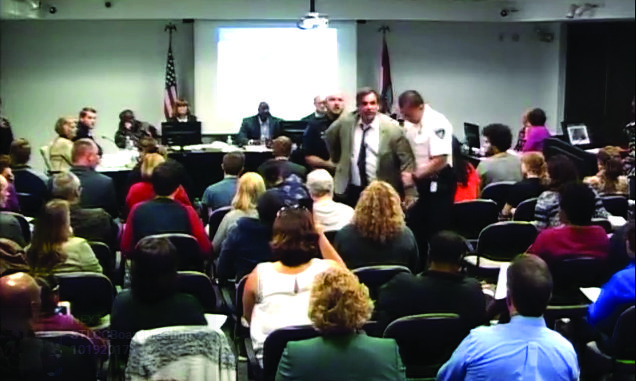 Meeting video captures chaos
STLCC released a video excerpt from the board meeting, which took place at the college's Cosand Center.
Acting Chairman Rodney Gee told the crowd that speakers during the public-comment period would have two minutes and that applause was prohibited. But some people clapped for Meramec faculty member Sandra Brady anyway.
Taylor objected to Gee's rules from the back of the room. The chairman told him to leave then asked police to remove him.
Taylor walked up the aisle toward the board table, and as a police officer grabbed him from behind, he kept moving and hit the floor.
People in the crowd could be heard yelling, "What are you doing? Let him go," "First Amendment" and "That is beyond the pale."
Two other people were escorted out of the meeting on Gee's request.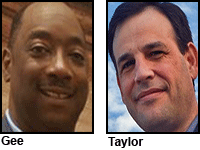 "(Taylor) became disruptive," said Kedra Tolson, STLCC's executive director of marketing and communications. "At the beginning of the meeting, Acting Chairman Rodney Gee laid out some ground rules for the public-comment portion of the meeting. He did say that, 'If you become disruptive, you will be asked to leave.' And that is exactly what happened. Mr. Taylor was signed up to speak. He spoke out of turn and spoke loudly."
Taylor was taken to the hospital after being removed. He said he suffered a concussion, bruising, rib fractures and contusions on his arms and legs.
Taylor said he didn't intend to cause a scene at the meeting, but he objected to the board allowing applause for the administration, but not students and faculty.
"It's very draconian," he said. "When one side can clap and another cannot, that's manufacturing consent. It's a suppression of speech."
Tolson said the meeting returned to normal order after Taylor was removed.
Contract negotiations continue
The college and adjunct bargaining committees met on Oct. 24, according to SEIU Organizing Coordinator Stacie Manuel, but neither released details of what happened.
The Meramec march wasn't the first SEIU gathering on an STLCC campus. About 20 adjuncts and other supporters held a rally on Sept. 6 in the Forest Park courtyard and chanted their way upstairs to Provost Larry Johnson's office.
Most protestors at Meramec focused on the need for an adjunct contract. Engineering major Emma Goldman, 23, said some adjuncts have to work multiple jobs to make ends meet.
"How can we condone treating people who work hard like that?" she asked.
A few protesters spoke out about Taylor. General transfer student Katherine Johnson, 29, who attended the Oct. 19 board meeting, said he didn't charge toward the front.
Manuel said Taylor's arrest won't have a chilling effect on adjuncts and probably will motivate them to try even harder to get their message across.
"The more people that speak out, the more treatment like this from the administration won't be tolerated," she said. "Speaking out is what's going to win them the fair contract they deserve."
"They're trying to intimidate us, and we won't be intimidated," Williams added.
STLCC's statement on Oct. 20 ended by explaining why people must follow instructions if they want to speak at board meetings and expressed regret for the recent chaos.
"St. Louis Community College meetings are business meetings held in a public forum," it read. "However, disruptive outbursts undermine the process of conducting business in a transparent and respectful manner. We regret that our students and members of the public had to witness this action."