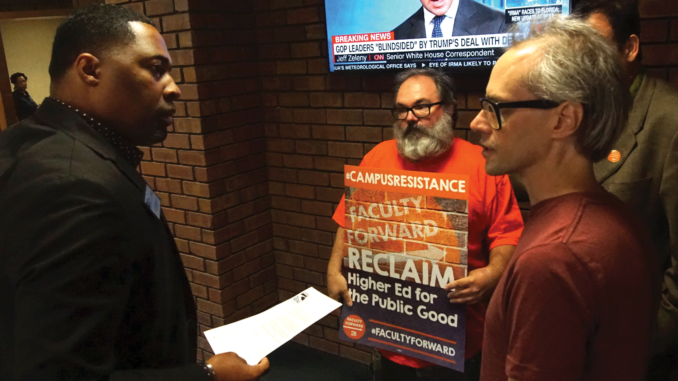 By Joshua Phelps
The Scene staff
Adjunct faculty members rallied on the Forest Park campus this month, upset that they still don't have a union contract after more than a year of negotiations with St. Louis Community College.
About 20 adjuncts, students and other supporters carried signs and listened to speakers on a windy day in the courtyard. After the rally, they marched upstairs to Provost Larry Johnson's office, chanting "When adjuncts' lives are under attack, what do we do? Stand up, fight back!"
Campus police asked chanters to lower their voices when they got inside the building. Johnson met with them for about five minutes.
"I think (college officials are) not bargaining fairly with us," said union committee member Brett Williams, an adjunct in art at Forest Park, during the rally. "We voted in a union over a year ago. We're in our second year of contract negotiations, and they refuse to budge on anything."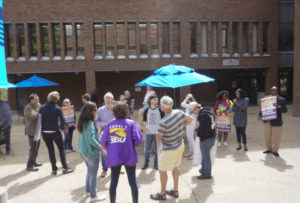 More than 800 adjuncts (part-time faculty members) work on STLCC's four campuses – Forest Park, Meramec, Florissant Valley and Wildwood. They voted 188 to 15 to unionize with Service Employees International Union Local 1 on Oct. 31, 2015.
Union representatives and college officials began negotiating in May of 2016 and have met 22 times, said Stacey Manuel, Local 1 organizing coordinator for higher education.
"It is taking a very long time," said Kathy Ratino, an adjunct in communications at Forest Park, who attended the rally. "We're anxious to get it wrapped up. (The current set of agreed-upon issues) is not what we're looking for.
"We're looking for job security. That's not in the contract yet. We're looking for better pay. That's not in the contract yet. We've not had raises for a long time when other parts of the college have gotten their raises. We feel like it's just what's fair."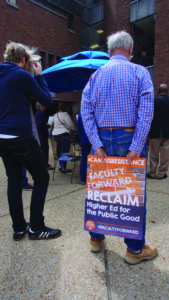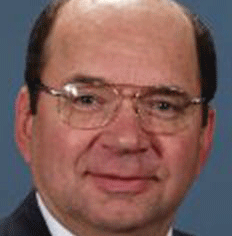 The college's representative is Robert Thumith, director of employee and labor relations, who also is an adjunct at Lindenwood University. He said it was inappropriate for him to comment on the rally because it's not part of the negotiating process.
College and union representatives last met on Sept. 8, two days after the rally. Thurmith said the two sides are at an "impasse."
"We tried as hard as we can to reach an agreement, but we can't," he said in a Sept. 20 interview with The Scene.
Thumith said under state and federal law, there is no obligation for the college and union to reach an agreement.
"The duty is to collectively bargain and negotiate," he said. "You can actually have a union and not have an agreement."
Thumith also talked about STLCC's financial problems. The college is facing a $5 million reduction in core state funding because of a 9 percent cut to the Missouri higher education budget, Chancellor Jeff Pittman said recently.
"It affects everybody's pay across the board – full time, part time – in terms of the ability of the college to fund any kind of pay raises," Thumith said.
Union representatives distributed the first issue of a newsletter called the "Adjunct Advocate" around the Forest Park campus in mid-August.
One article maintains that Pittman refused a meeting with Steve Taylor, an adjunct in math on the Wildwood campus; Steven Thomas, an adjunct in music at Forest Park; and Williams.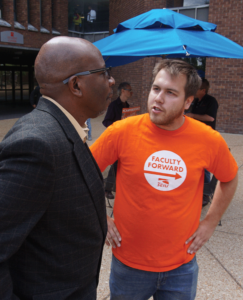 Another article, titled "Crisis in the classroom," argues that adjuncts with master's degrees earn "what amounts to a pay rate of $10 per hour" and don't get health insurance. Many don't have offices.
"College and university administrators will say there is only so much federal, state and student loan money to fund education, but despite their cries of poverty, the number of high-paid administrators and costly new building projects continues to grow," the article states.
"It appears that everyone is doing rather well, other than those in the classroom, specifically the student who is likely to incur debt and the growing ranks of the adjunct professors, who receive substandard wages."
Thumith disagrees with this characterization. He said STLCC is competitive with other community colleges on adjunct pay and that its adjuncts earn up to $1,000 per credit hour, nearly $150 more than the going rate at St. Charles Community College.
"It's not that we wish any particular group of employees ill will," he said. "It's what's affordable, sustainable and what's in the best interest of our students."
The union rally was held from 2 to 3 p.m. Wednesday, Sept. 6. Speakers included Megan Green, 15th Ward alderwoman for the Tower Grove South neighborhood of St. Louis. Her father was an adjunct at one time.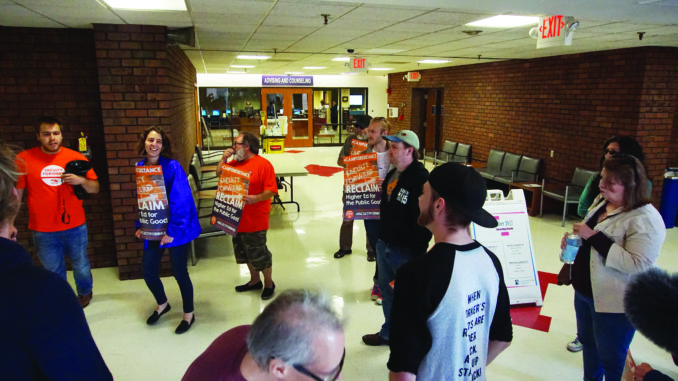 Green said the college is spending money on construction instead of adjunct pay raises. Forest Park is preparing to break ground on a new $39 million allied health center on campus.
"Universities and learning facilities need to be setting the standard for things like unionizing," Green said. "I would hope that the administration would want to set a good example for other businesses and other universities of St. Louis to pay a little bit more."
Taylor was the next speaker. He stressed the importance of adjuncts, noting that the vast majority of instructors at STLCC are adjuncts.
"No longer is it a reality that you get your doctorates, and you go on adjunct for a while, and you're likely to be hired," he said. "Professors aren't being hired anymore. They're being rented out."
Art major Molly Svoboda, 18, showed up at the rally to support adjuncts. She said her mentor, a Forest Park adjunct, had her only class taken away at the last minute this semester.
"She's still working with me because she has evolved a relationship with me," Svoboda said. "But it's really hard to not know if you're going to work."