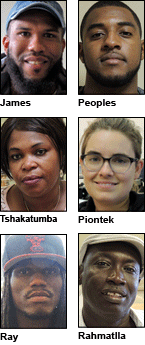 By Timothy Bold
The Scene staff
Many Forest Park students don't want to talk about how President Donald Trump is doing six months into his term.
Those who do are worried.
"My grandma is thinking about her benefits being taking away," said Darnell Ray, 28, a general transfer student. "It's really stressing her out, man."
Ray was referring to the proposed Affordable Care Act replacement, which is being debated in Congress and pushed by Trump.
Health-care experts estimate that more than 20 million people will lose their insurance because of Medicaid cuts and that premiums will rise for others if either the House or Senate version of the law is enacted.
The health-care debate and other problems since Trump took office are no surprise to Ray and his grandmother.
"I can remember (her) crying after the election, being upset thinking about the future of our country," he said. "We're going to be in trouble because lower-class people are going to be left helpless."
Ray was one of a half-dozen students willing to talk about Trump as part of a random survey conducted by The Scene.
Like Ray, general transfer student Tommy Jones, 21, is most concerned about health care.
"I think the (replacement) plan is going to be hard for the less fortunate and kill a lot of people in poverty," he said, calling it "a form of genocide."
Linden Peoples, 23, a student in the MoSTEM program, has economic issues on his mind.
"I don't see (Trump) doing anything for the economy, especially for the middle and lower class," he said. "The wages seem to stay the same, leaving no progress for living."
Sudanese student Gamal Rahmatlla, 48, is worried about immigration policy. He and his friends have been negatively affected by Trump's temporary ban on travel by people from six predominantly Muslim countries.
"It's not fair," said Rahmatlla, who came to the United States to study civil engineering. "Native people aren't allowed to visit this country. They're very peaceful and won't do any harm."
Photography major Grace Piontek, 25, talked mostly about environmental issues.
She objects to the loosening of regulations, which helps corporations make money but fails to protect Americans from pollution or address climate change.
"(Trump's) negligence towards the environment and science proven factually is so disrespectful," she said. "Our public lands and national parks are under threat. American heritage needs to be preserved."
English as a second language student Thererse Tshakatumba, 40, is more optimistic about the Trump administration than other students interviewed.
"He's making mistakes, not being a politician prior," she said. "You have to give him a chance from being a businessman. The economy can become better or it could be worse. He needs time."