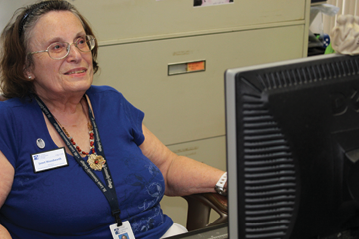 By Brian Ruth
The Scene staff
When Janet Woodworth came to Forest Park in 1966, Lyndon Johnson was president, the Apollo space program had yet to reach the moon and the Beatles were touring the United States.
Woodworth, 74, now secretary for the Humanities and Social Sciences department, will leave Dec. 31 as part of a districtwide early retirement program or "buyout." She has worked for the college 51 years.
"I was going to stay on another year because I'm a vice chair for the Missouri Community College Association," she said. "But since they're giving us the incentive … That's why I'm taking it."
St. Louis Community College offered a "voluntary separation incentive package" to 529 employees who are 55 or older with five years of service or 54 and under with 20 years of service. That is about 40 percent of the workforce.
Some 117 employees accepted the offer by the June 22 deadline. That includes five faculty and 26 staff members at Forest Park.
"It was really a first step to address our whole budget situation," said district Vice Chancellor of Finance and Administration Paul Zinck.
Employees who took the buyout could choose to stop working July 31 or Dec. 31. They had two incentive options. The first was continuing coverage under the college's health insurance plan for two years.
The second option was receiving a one-time cash payment equal to 1 percent of annual base salary multiplied by years of continuous, full-time service, not to exceed $20,000.
Bonnie Meyer, secretary for the Business, Math and Technology department, accepted the offer and plans to leave July 31. She already had been considering retirement.
"I was learning towards it," said Meyer, who has been working full-time at Forest Park for 17 years. "The incentive is just a drop in the bucket. But it is better than what they may have to do (with layoffs)."
State budget cuts


Missouri Gov. Eric Greitens' state budget for the fiscal year that started July 1 cuts $159 million from higher education.
STLCC officials have been trying to figure out how to save money. They came up with the idea of selling the Cosand Center administration building and offering a buyout to employees.
"If we can lower our salary and benefit expense through a method such as this, then we don't have to go to more drastic means (such as) cutting salaries or positions, or layoffs," Zinck said.
The college is going through an assessment to determine how to best spend the money it has available in light of state fund ing cuts, lower enrollments and reduced costs resulting from the buyouts.

"If you have less students overall, you have less requirements for sections, so you may be able to not fill those faculty positions," Zinck said. "That assessment will help us determine if we need to fill the position, or if we need to repurpose those dollars."
Forest Park has a voice in the assessment process, according to Provost Larry Johnson, who was associate dean of academic affairs at Broward College in Florida when a buyout was offered.
"This is my first time being directly involved in the dialogue at this level," he said. "These conversations are being had in the spirit of transparency, so Forest Park is definitely being represented. This is an individualized conversation taking place for each campus."
The American Association of University Professors maintains that when colleges leave faculty positions vacant or hire less-experienced instructors, it can reduce innovation because adjuncts have less freedom to take risks in the classroom.
The buyout offer at Forest Park included managers and supervisors, not just faculty and staff positions, according to Zinck.
Johnson sought to calm fears by stating, "Our student-learning experience at Forest Park will not be impacted at all, and I will achieve that."
Next chapter in life

Another employee who took the buyout is Carol Foreman, secretary for the Fine Arts department. She's been working at Forest Park for 23 years.
Foreman is looking forward to spending time on rural property she recently purchased near the Big Piney River. It has a fishing pond, vegetable garden and peach and pear trees.
"I've been old enough to retire for four years, and I just kept putting it off," she said by telephone from the "farm." "But now I think it's time."
Meyer plans to spend her retirement traveling and visiting family, working around the house, making beads and jewelry and crocheting.
Woodworth can still work with the Missouri Community College Association as a retiree.  One of her fondest memories of Forest Park is getting so much support from co-workers after her house fire in the 1990s.
"Everybody came together, like a wedding shower, and gave me stuff I needed," she said. "People here do help you out when you need it, but now I think the morale is kind of bad. There are too many changes coming down the pike, along with this governor cutting everything again."