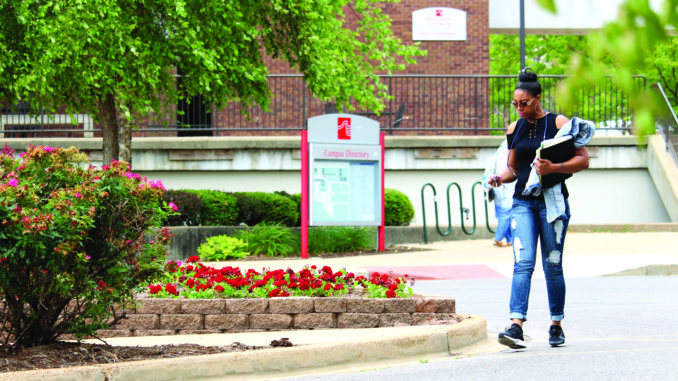 By Brian Ruth
The Scene staff
Landscaping at Forest Park is designed to enhance "curb appeal," but its flowers and trees also provide shade and beauty for people to enjoy.
"We plant several hundred flowers per year," said Facilities Manager Dennis Kozlowski. "Most annuals have been begonias and impatiens. The perennials are geraniums and mums."
The campus also has dozens of maple, ginkgo, cherry, ash, elm, plum and birch trees. Students, faculty and staff seem to appreciate them.
Tripti Dura, an English as a second language student from Nepal, waits for rides while sitting on benches shaded by three river birch trees, next to the circle drive and security booth.
"Coming here, I see many different flowers and trees than in my country," she said. "And they do such a good job here, even with the grasses."
Facilities staff members work on the grounds all year, but spring and summer are their busiest times with planting, mowing and weeding.
Work is supervised by Josh DeWitte, maintenance and HVAC (heating, ventilation and air conditioning) manager.
"We have multiple locations that we are looking at to improve our curb appeal," he said. "Some are additional plants and shrubbery we are looking to get in before the end of the growing season in late summer to early fall."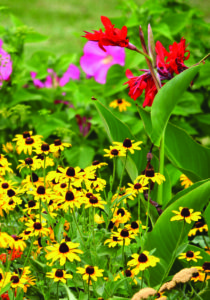 Beyond landscaping, the campus also has a butterfly garden that faculty and staff planted in 2015 at the southwest corner of A Tower.
It has daisies, coneflowers, tiger eyes, black-eyed Susans and three milkweeds, which attract Monarch butterflies.
"I look for volunteers wherever I can find them because it's quite an undertaking," said humanities secretary Mary Kearny, one of the volunteers.
Kozlowski, a Forest Park employee since 2001, has become something of a tree expert since he took the job of facilities manager 12 years ago. He does extensive research before deciding what to plant and where to plant it.
"Maybe I do have a bit of a green thumb, I don't know," he said. "I just like the beautification aspect of landscaping. But then again, I can't get the tomatoes to grow in my back yard."
At Forest Park, his staff has dealt with several tree diseases.
"We had an ash-borer disease that killed most of the original ash and honey locust trees that were put in back in the late-'60s and early-'70s," he said.
The ashes were replaced with maple, ginkgo, cherry and plum trees.
"The ginkgo is one of the oldest-living specimens of tree life on earth," Kozlowski said. "So I figured it would survive during my tenure here."
The cherry and plum trees were planted for color. The gingkos along Highlander Avenue (in front of the Bastian theater) and Wise Avenue were planted for shade and bright yellow leaves in the fall.
"I've also got them in the islands in front of A Lot," Kozlowski said. "It was a long process to get finished up, and I've led the effort myself."
Kozlowski planted accolade elm trees on the south side of A, B and C Towers. He chose that species nine years ago because of its resilience to disease.
"They are coming into maturity now," he said. "They're looking beautiful and are providing shade."
The staff also has dealt with Dutch elm disease, which has devastated trees throughout the region, particularly century-old trees in Webster Groves.
Honey locusts, ash trees and juniper bushes were the predominant landscaping when the Forest Park campus was built in the 1960s, but most had died or were sick by the time Kozlowski became facilities manager.
"It was looking like a scene out of a horror movie along Oakland Avenue," he said.
One of Kozlowski's favorite trees is the Japanese cherry blossom. He planted several along the staff parking lot and student lots A, B, C and E.
"Since there are cherry-blossom festivals here at the botanical garden and in Washington, D.C., I thought, 'Why not bring some of that festival ambiance to the campus?'" he said.
The staff planted two varieties: pink Kwanzans and white Yoshinos.
Kozlowski and DeWitte do not know what landscaping is going to be involved with the new allied health building along Oakland Avenue. It is set for completion in 2019.