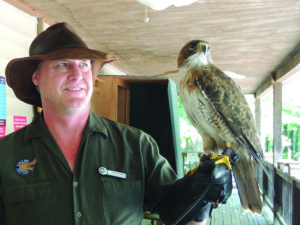 By Timothy Bold
The Scene staff
Red-tailed hawks are common around Forest Park, nesting in trees, perching on utility poles and looking for rodents or birds to eat.
Student Connor Smith didn't know this – until last month.
That's when a hawk swooped down toward him as he was walking in the Student Center door.
"From behind my left side, I felt a gust of wind, like a broom sweeping against my ear, next to my shoulder," said Smith, 28, a general transfer student.
He saw a brown hawk with red feathers and a wide wingspan making a beeline for a pigeon in the courtyard. It came within inches of his ear.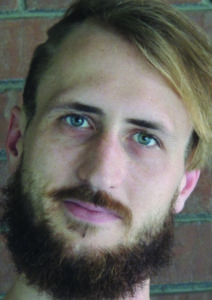 "I was in shock because it happened so fast," Smith said.
He then walked into the Student Center lobby, where information desk attendant Tim Cary was on duty.
"He came in, eyes wide open, and he looked shook up," Cary said.
Smith reported the incident to campus police Lt. Terri Buford, who wrote a report.
"The main thing was, I had to make sure he wasn't injured," she said. "I take everything serious."
Buford later watched the incident on campus security video. She verified Smith's version of events.
"The pigeon flew in the right corner, next to the Student Center entrance," she said. "Smith was about to enter through the automatic doors when the hawk flew past his head."
Campus police haven't received any reports about hawks in recent memory.
"No, they never cause problems," Buford said.
Red-tailed hawks are common throughout the St. Louis area, according to John Hoffman, director of World Bird Sanctuary Hospital in Valley Park.
"(They) dwell in the open areas, where old trees are perfect to nest," he said.
Hawks particularly like highways lined with utility poles because they are good places to perch and spot prey. Their vision is eight times better than that of humans.
What happened to the pigeon at Forest Park?
"The pigeon actually got away and changed its course," Smith said. "I went to the police department to see if they had it on video. It was a close encounter, but I didn't file charges."