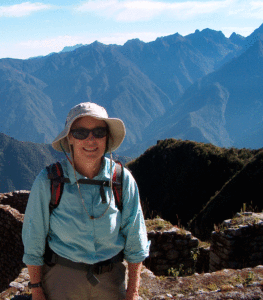 By Shileha Churchill
The Scene staff
Earth science isn't just a subject for professor Jennifer Collins. It is a part of her life and philosophy.
She has visited 15 countries and about a dozen national parks in the United States. She has gone hiking and skiing in the Himalayas of Bhutan and the Dolomites of Italy.
In 2005, Collins climbed Mount Kilimanjaro in Tanzania for her 50th birthday. It took her seven days to reach the 19,341-foot peak.
"I have even climbed Mount Stromboli in Sicily and sampled lava flows," she said.
Collins is driven in part by her love of nature. She believes human beings should respect the earth and take action to stop climate change.
She also has a special interest in natural disasters, considering them Mother Nature's way of taking back what is hers.
"We have a huge effect on the environment, and we can't control the environment," she said. "We do things to it we shouldn't."
Collins has been teaching at Forest Park since 1992. Her classes include earth science, geology and physical science.
Students like it when she incorporates personal experiences in her lectures.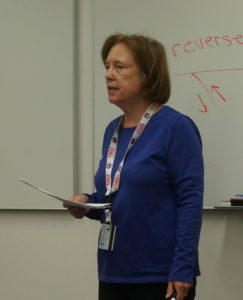 "(She) is a fun teacher and very adventurous," said former student Kayla Arnold, 20, an art major. "When she explains her travels, it makes you feel like you are there.
"She is also nice and goes out of her way to be more than just good as a professor."
Collins got interested in science as a little girl. Her father was geologist.
While attending Regina High School in Chicago, she moved toward geology. She earned bachelor's and master's degrees at University of Colorado.
"I've always loved science and the history of earth," she said.
Collins started her career as a technology officer in the oil industry in Houston. One of her most memorable moments was getting caught in a sand storm and having to pull over on the side of the road on her way to an oil rig.
"The oil industry was an interesting field to be in," she said. "When I was in it, the industry was booming."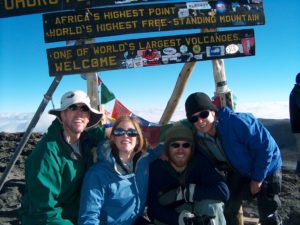 Collins left the oil industry in 1992 and became a stay-at-home mom. She has two children, son Tommy and daughter Beth, both in their 30s.
Collins later started teaching, retired and then changed her mind and returned to the classroom. Concerned about climate change, she wanted to help students learn how the earth works.
"(She) is a great at being hands-on with students, and the students enjoy it," said Teresa Alvare, science department chair. "Her classes are always full and a great alternative to more of the general-education science classes."
Throughout her career, Collins has found time to explore nature, although she steers clear of caves. They make her claustrophobic.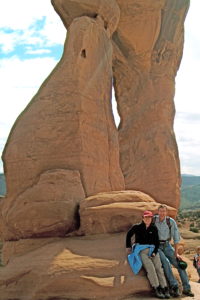 Her favorite U.S. national park is Bryce Canyon in Utah. It's known for its "hoodoos," which are totem-pole-like rock formations.
Collins travels mostly with her husband, Tom. He describes her as an "adventurer."
"She loves the outdoors, and whether it's hiking in the Dolomites or Bluff State Park, we always enjoy being out," he said. "The only negative is that we always wind up with rocks from wherever we go. And I'm the one who has to carry them."
Collins' son, who also has a geology degree, likes to hike. Her daughter isn't as enthusiastic but is sure to look good on the trail.
Collins has a particular love of minerals, such as tourmaline, which is multi-colored and most often pink, red, green and blue. She jokes that she would buy some if she won the lottery, as it is very expensive.
She  advises anyone who wants to go into geology or learn more about the earth to enroll in classes and observe nature, visiting national parks whenever possible, but also taking advantage of state and local parks on a regular basis.
In her free time, Collins enjoys reading, watching sports, collecting rocks and spending time with her 2-year-old grandson, Booker, who goes hiking and camping with her.
Collins has met most of her own life goals. Now, she just tries to stay active.
"Nothing feels better than taking a walk in the country," she said. "Our local parks are beautiful."