By Niki Best
The Scene staff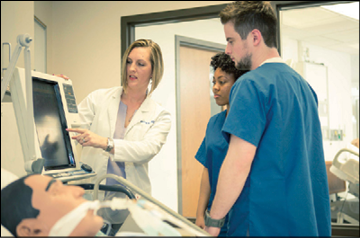 Forest Park is getting a new Allied Health Center, its first new building in nearly two decades.
The four-story, 65,000-square-foot structure will be built on the north side of campus, between A, B and C towers and Oakland Avenue. It will house nursing, dental hygiene and eight other health-related programs.
"It will serve two purposes," said Vincent Featherson, dean of natural science education and physical education, which includes allied health. "It will really give Forest Park a beautiful 'front door' appearance and make it more attractive.
"The second (purpose is that) technology is always changing. We need to stay up-to-date on our programs, and this building will give us that opportunity."
STLCC officials have discussed the need for a new Allied Health Center for years. Its programs are among the most popular at Forest Park, and its classrooms and labs are scattered throughout campus.
The St. Louis Community College board of trustees voted on Feb. 23 to hire KAI Design & Build architectural firm to design the new building. It's expected to be completed by August of 2019.

"KAI presents an experienced, diverse project team that has done considerable design work for the college," said STLCC Chancellor Jeff Pittman.
"They demonstrated a clear vision for the transformative nature of the new building, as well as a creative preliminary solution to the site development, acoustic concerns and future campus space requirements."
Allied health is "a vast community of occupations that strive to better the health of others," according to Webster's dictionary.
STLCC has offered allied health classes since 1967.  Most have been on the Forest Park campus.
"The new Allied Health Center will be a significant addition and improvement to the Forest Park campus," said Provost Larry Johnson. "Replacing a more than 50-year-old structure, the new building will really reintroduce the campus to the St. Louis community in a bold and vibrant way."
By "50-year-old structure," Johnson was referring to the fact that the Forest Park campus opened in 1967, so most of its buildings are 50 years old.
Nearly 500 students are enrolled in allied health programs at Forest Park.
Those that will move into the new building will include nursing, dental hygiene, respiratory care, clinical laboratory technology, diagnostic medical sonography, dental assisting, emergency medical technology, paramedic technology, radiologic technology and surgical technology.
Fire protection technology and funeral service education fall under the allied health umbrella, but they won't be housed in the new building.
"I think this will be a great addition to the campus," said Lindsay Fox, assistant professor in respiratory care. "I'm very excited to have a new lab for my students to pursue their careers in. We're all very excited to see what the new addition will bring."
The Allied Health Center will allow some programs to expand and may result in more classes or sections.

Architecturally, it will be modern but designed to fit in with existing campus structures. The college and architects are aiming to get Leadership in Energy and Environmental Design (LEED) gold certification by making it energy efficient and environmentally friendly.
"This building will help us prepare our students for immediate employment in the healthcare field," Featherson said. "We couldn't be more excited to make this happen."