By Jeffrey Wallace Richman
The Scene staff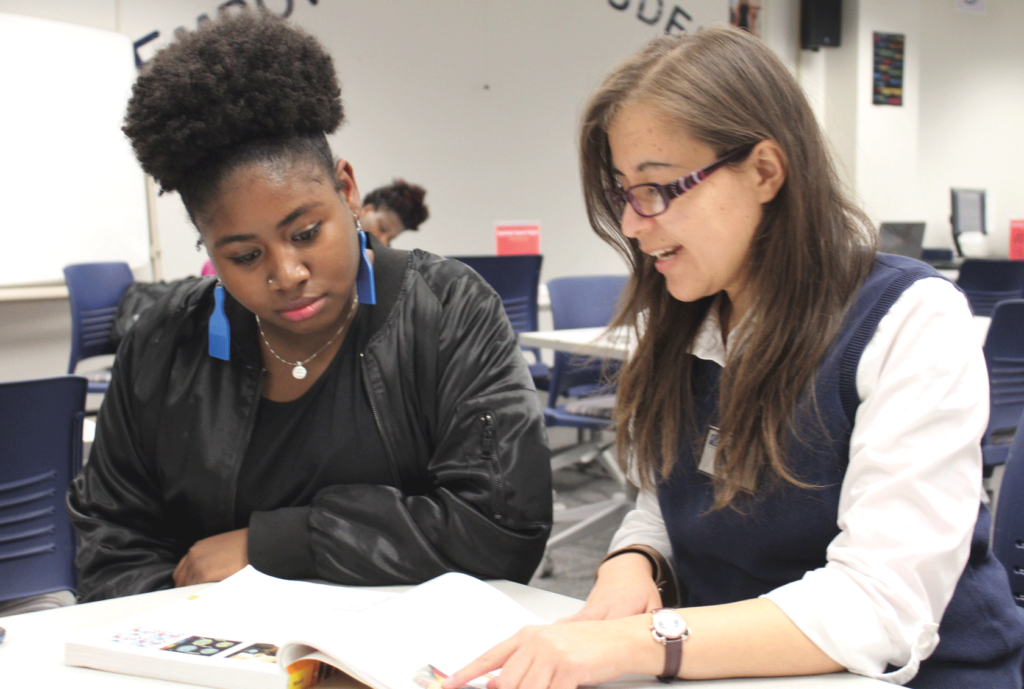 Forest Park has plenty of resources to help students succeed in college, and a big one is the Academic Support Center.
Services include a math tutoring lab, a reading lab and a writing center.
General transfer student Dajah White, 21, goes to the the writing center four to five days a week for tutoring and help editing papers.
"I gain dedication to do my work and the ability to prioritize my priorities," she said.
The center is located in L-24. It's managed by Cynthia Jenkins, who came on board in 2011.
"The Academic Support Center is important because your peers are here," she said. "You'll find that a lot of your fellow classmates are coming and using the resources, so this is an opportunity to study in a group learning environment."
Jenkins promises that students who take advantage of services on a "regular basis" (two to three times a week) will improve their grades by one letter.
"Our goal is to help them be independent thinkers, to teach them how to be critical thinkers," she said. "We aren't going to tell you the answer. We are going to help you understand how to get to the answer."
One of the tutors is Natalia Valero, 31,  a senior majoring in psychology  at University of Missouri – St. Louis.
"I love tutoring all these students," she said.
Valero first served as an assistant student worker for Antonia Perez Franco's Spanish classes. Last fall, Valero started working at the Academic Support Center as a tutor for social science, math 140, and Spanish classes.
"I feel like every student you help is a success," she said. "And even if you cannot help them fully understand it, if they can get some kind of help and hope, they can overcome those challenges."
Academic Support Center services are free. Students need only walk in and ask for help. They also can call to find out when a tutor who specializes in a specific field of study or class is on duty.
Hours are 8 a.m. to 8 p.m. Mondays through Thursdays, 8 a.m. to 2 p.m. Fridays and 9 a.m. to 1 p.m. Saturdays during spring and fall semesters; and 8:30 a.m. to 6 p.m. Mondays through Thursdays and 9 a.m. to 2 p.m. Fridays in the summer.
For more information, visit http://www.stlcc.edu/FP/Academic_Support_Center.html or call 314-644-9267.