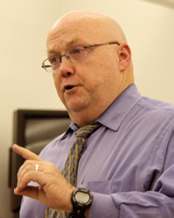 By Chris Cunningham
The Scene staff

Forest Park students, faculty and staff still are digesting the news that Police Chief Richard Banahan has been placed on paid administrative leave, along with Anthony Russo, police chief on the Meramec and Wildwood campuses, and Mark Potratz, director of St. Louis Community College public safety and emergency management.
The three men were escorted off campus on Thursday, according to a St. Louis Post-Dispatch story.
STLCC Chancellor Jeff Pittman sent an email to employees March 31, stating that "effective immediately" the three men would "leave the college to pursue other professional opportunities."
"I value the contributions of Mark, Tony and Richard to the college and wish them well in the next stages of their careers," Pittman stated.
Kedra Tolson, executive director of STLCC marketing and communications, also sent a press release to The Scene on Friday.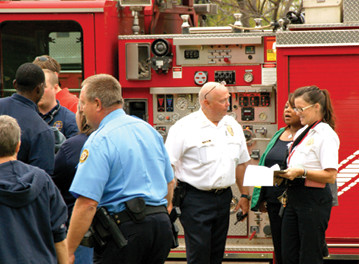 "We acknowledge that Mark Potratz, Anthony Russo and Richard Banahan have been placed on paid administrative leave but strictly adhere to a policy of not commenting on personnel matters at the college," the press release stated.
Tolson told the Post-Dispatch that there was never any danger to students, faculty, staff or anyone else on campus and there are no charges against any of the three men.
The college has named Lt. Col. Alfred Adkins, a 35-year veteran of St. Louis Metropolitan Police Department, as interim director of public safety and emergency management.
Banahan declined comment when contacted by a Scene reporter on April 4. Police Lt. Adis Becivoric, his second in command at Forest Park, referred all questions to Tolson.

Banahan was a St. Louis police sergeant before joining STLCC in 1998, according to the Post-Dispatch. He recently became police chief for the Florissant Valley campus, in addition to Forest Park.
"I have known him for a long time, and I consider him a friend," said Mary Kearny, Forest Park humanities secretary. "Like many others, I was surprised to learn he is no longer working here. … I have been here for 20 years, so you could say we grew up together in a way."
Mariah Richardson, an adjunct faculty member in communications, also expressed surprise.
"I think it is unsafe not having him here," she said. "Who's the leader? … We need somebody on campus who other officers can be held accountable towards."
Chester Henderson, president of the Forest Park Student Government Association, had not heard about the college's action on Banahan until a reporter told him on April 4.
"I don't know the details of what transpired, but I think that is odd," he said. "… I hope everything is going to be OK and that whoever is brought in to replace him will do a great job."
Tolson indicated that the college would decide how to proceed with planning in public safety and emergency management based on Adkins' evaluations and recommendations. She referred back to Pittman's statement, which read:
"Our campuses are safe and secure, thanks to the efforts of our college police. However, we need to re-focus those efforts to adopt best practices, increase safety awareness and, finally, align our policing function with other departments to demonstrate a district culture of care for our students, employees and visitors."
"We are, therefore, bringing new leadership to our college police to carry on this important work and bring greater efficiency and an enhanced emphasis on community policing practices."

The Scene attempted to ask Pittman follow-up questions, but he responded by email that he had nothing more to add to Tolson's comments and his written statement.
"When asked what these comments mean and why Pittman discussed these needs for improvement at the same time three police administrators were removed, Tolson pointed to the college's current strategic plan, which calls for 'continuous improvement,'" the Post-Dispatch reported.
"This is not a reorganization," Tolson told a Scene reporter. "(Adkins) is going to come in and make suggestions and work with the folks who are still here."
Beyond policing, Banahan has been a Special Olympics volunteer for 30 years. He raised $34,000 for the organization in 1993 by sitting on an interstate billboard for 96 hours.
In 2003, Banahan was named to the Special Olympics Missouri board of directors. He was state chairman and later regional coordinator for its Law Enforcement Torch Run.
"Seeing the reaction on some of the athletes' faces when they compete and accomplish personal goals is the purist form of giving back that I've ever been involved in," he said in 2014.