By Timothy Bold
The Scene staff

Veteran coach Terry Collins has gotten the St. Louis Community College's men basketball team back to its winning ways in only his second season.
Collins led the Archers to the Region 16 championship and the National Junior College Athletic Association's District 13 title, which resulted in a berth in the national tournament.
Their season ended Wednesday in Danville, Ill., where the No. 14-seeded Archers lost to No. 3 Louisburg College of North Carolina, 92-70.
Collins brings to the Archers more than 30 years of coaching experience, most as a head coach with community college teams in Illinois. He notched two 20-win seasons with John C. Daley College in Chicago.
Before the 2015-16 season, Collins replaced Randy Reed, who was 36-28 in two seasons with the Archers, including a seventh-place finish in the NJCAA Tournament in 2014. Collins has a connection with STLCC's athletics director, Shawn Summe. The two worked together at Ave Maria University in Florida, where Summe was the head baseball coach and athletics director and Collins was assistant basketball coach.
Collins was on a visit with potential Ave Maria recruits when he accepted the position at STLCC, now focusing recruiting efforts in the St. Louis area for the first time since the late 1980s, when he was head coach at Belleville Area College at Granite City.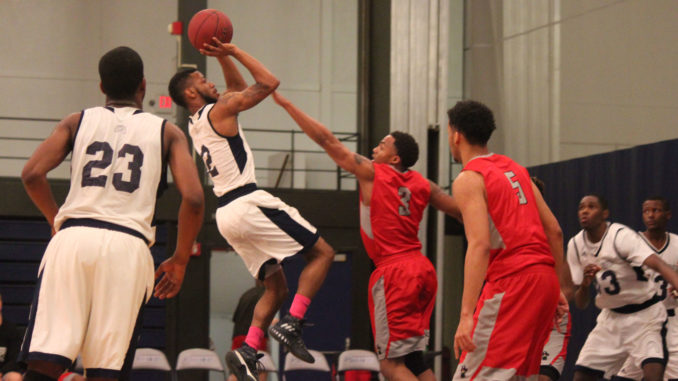 In recruiting, "the one thing that has not changed is that the key is to find great leaders," Collins was quoted as saying in an STLCC news release announcing his appointment. "When you have great leaders, a lot of things fall in place. Some things have changed, but having great leaders who work hard and are working toward the process of getting better, those are the kinds of people you want to bring into the program."
Collins inherited an Archers team that posted a 14-16 record in 2014-15, losing the Region 16 title game to Metropolitan Community College-Penn Valley. His first season here ended 12-18. "It wasn't a lot of time to recruit, lack of depth and an injury-plagued team played a major part," Collins said. "Teams would just wear us down, and we would make a lot of mistakes."
This season, with time to recruit and implement his system, the team enjoyed a major turnaround.
"We have good balance with our offense and defense," Collins said in an interview late in the regular season. "We try to get players to understand their strengths in our triangle offense," which features three guards.
Sean Rigmaiden, a sophomore guard from St. Louis and the team's leading scorer, said, "Once we figured out the triangle, everyone plays their part, nobody gets to play individually."
Collins' recruiting efforts snagged starting guards Todd Simms, a freshman from St. Louis, and two sophomores, Brian Enriquez of O'Fallon, Ill., and Miles Nettles of St. Louis. Eight of the 13 players on the roster were freshmen brought in by Collins.
"As far as the X's and O's, he's so methodical," Nettles said. "Since the beginning of the season, training was hard, but you see how it works and we roll."
In the national tournament game against Louisburg, Simms scored 14 points and Nettles had 12. Rigmaiden was held to three-of-14 shooting from the field and finished with 11 points.
Collins describes his coaching philosophy as being "methodical and precise, trying to get better every day."
The offense averaged 70.1 points per game this season, a big jump from the 57.7 a game last season. Balanced scoring was a key among the starting five of Rigmaiden (17 points per game), DeVante Harrell (10.8), Enriques (7.6) and Nettles (7.9), all sophomores, and Simms (12).
Collins expressed pride in the team's 8-6 road record in the regular season and its resilience. The Archers lost their first meetings against Danville, Lewis and Clark, Arkansas State Mid-South and MCC-Penn Valley but defeated each of them in the rematch.
Harrell has witnessed the improvements first hand. "We've got 13 players instead of seven, so the team has more contribution from the bench," he said earlier this season. "We're still working on getting things right because (the offense is) so complex."
Freshman Drew Smith said Collins is "very passionate, especially about teaching hard work and discipline in basketball. We're playing in a system where a lot of guys can do things on the court. All of us have a nice shooting range."
Collins relied heavily on his bench to keep the tempo high. Marquis Pepper, Raushaun Amos, Nigel Ferrell, Henderson Faulkner, Jarmon Williams, Courtney Barlow, Adis Mujakic and Smith all averaged between 7 and 8.5 minutes a game.
"The Region 16 games made us see that we can compete with anyone," Nettles said. He said the 74-57 victory at Arkansas State Mid-South and the 90-78 win at MCC-Penn Valley were "us against the world, and we didn't quit."