By Shileha Churchill
The Scene staff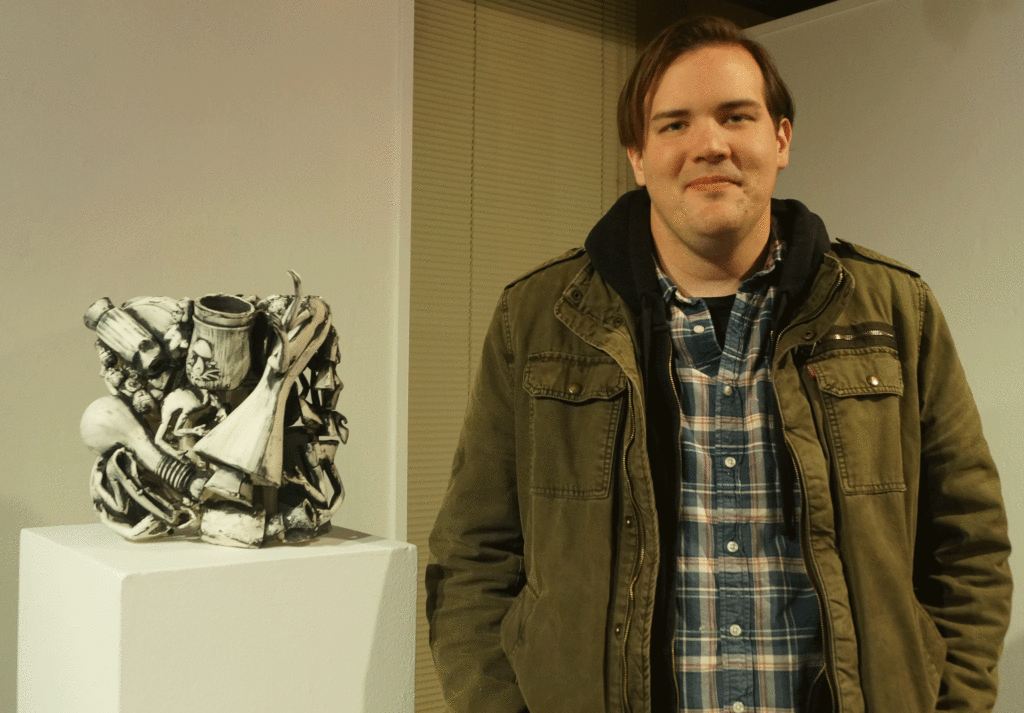 Decompositional Maelstrom # 27" is one of the most striking pieces of artwork in the annual Forest Park Faculty Exhibition.
The sculpture is a three-dimensional collage of ceramic pieces, everything from a salt shaker to a light bulb, a coffee mug to tiny human figures. Artist Troy Aiken made them from molds collected on his travels, most dating to the '70s and '80s.
"I want to know what happens to our trash in the future and our ceramics in the future … what it will be like if we became dystopian society," said Akin, a former California resident who began teaching art at Forest Park last year.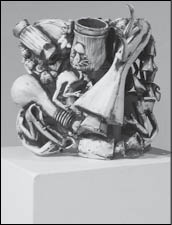 "Decompositional Maelstrom # 27" is one of 21 pieces in the exhibition, which will run through March 30 in the Gallery of Contemporary Art on campus.
That also includes paintings, drawings, prints, photographs, graphic pieces and a video installation.
Art professor Yingxue Zuo submitted a giant mural called "Carnival." At first glance, it's vibrant and colorful. A closer look reveals protesters carrying signs and other images that allude to political unrest.
"I wanted to show how it may look like the world is having fun, but we still have lots of problems," said Zuo, "For example, our issues with immigration."
"Carnival" is part of a series of three murals. The second is called "Money," and the third is "In the Name of the People."
Susan Dawson, who teaches art history at Forest Park, was one of about 30 people who attended the exhibition's opening reception. "Carnival" was her favorite piece.
"It is very current, important and powerful," she said.
Many of the artists presented themes focusing on American society, culture and politics.
Michael Paradise created a booklet called "Self-Satisfied" in honor of his art students at Roosevelt High School. He also teaches drawing part time at Forest Park.
The booklet contains small pencil and oil-pastel drawings of students in different settings.
"I wanted to show how I love (the diversity of) my students, and I wanted to show that amongst all of social injustice that we are having," Paradise said.
He also submitted a sculpture made of a tree truck with a rock in a cast-iron skillet representing a sunny-side-up egg. He found the rock while hiking in the woods, thought it was interesting and just had to take it home.
"I call this piece 'Out of Bedrock' because I wanted to show the celebration of finding things in nature," he said.
The faculty exhibition was organized by Zue and Jamie Kreher, a photography professor and chair of fine arts who invited all Forest Park faculty to participate.
Kreher also submitted a piece of her own. "American Mythologies" is a collection of travel photos, ranging from landscapes to a copper mine in Montana. They're printed on souvenir-style plates, similar to the ones her parents buy on vacation.
Kreher shows that photography can be inexpensive and accessible while also exploring the idea that people idolize the past and crave for nostalgia.
"Are we seeing America as great, or were we ever great in the first place?" she asked. "As Americans, we always crave for America's greatness and old ways."
Professor Metra Mitchell submitted three pieces in the exhibition. "Melancholia" is a dry-point engraving with a somber girl sitting alone in a chair. "Blindside and Desire & Despair" are two of 24 oil paintings in a series called "Character Development."
"Blindside" focuses on phobias and other fears. Two women, Persona and Sage, are sitting and looking toward a light with a hand creeping up behind them like a shadow.
"I wanted to show light and darks and how people have irrational fears," said Mitchell, who teaches drawing and design.
The Gallery of Contemporary Art is on the first floor of the Forest Park library building. Hours are 10 a.m. to 2 p.m. Mondays through Thursdays. Admission is free.