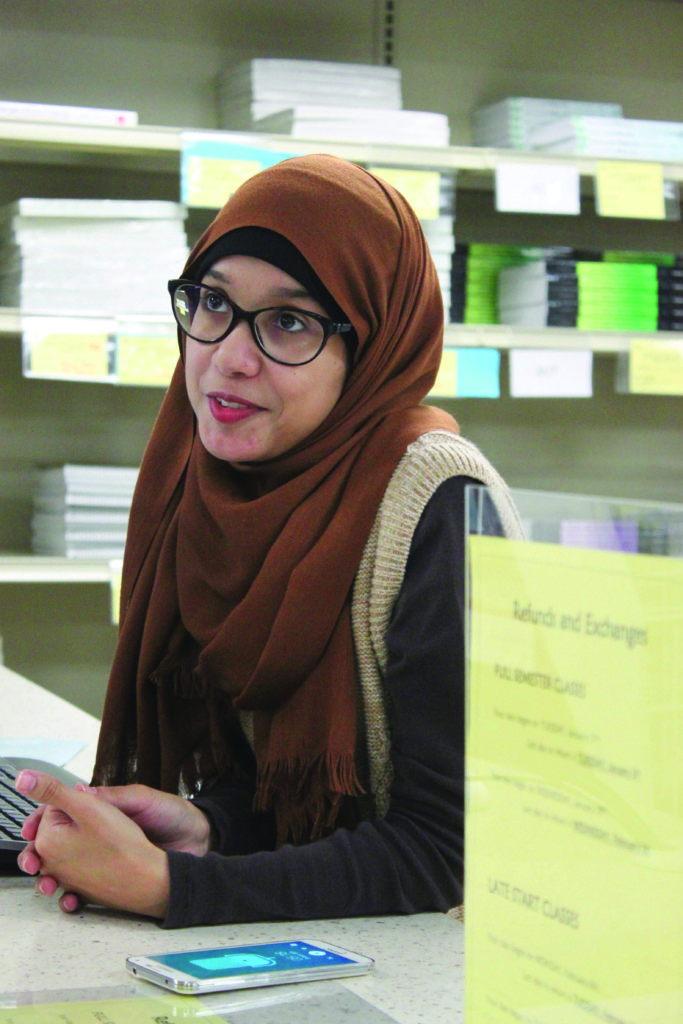 By Jeffrey Wallace Richman
The Scene staff
Many international students at Forest Park think President Donald Trump's comments and actions on immigration will cause more prejudice and keep them from seeing their family and friends back home.
"When he says, 'Oh the Muslim religion like this, like that,' over and over again, in the future, (Americans) are going to hate me," said Suzan Jaff, 33, a student from Kurdistan in northern Iraq.
Trump signed an executive order on Jan. 27, temporarily banning immigration to the United States from seven predominantly Muslim countries – Iraq, Iran, Syria, Sudan, Libya, Yemen and Somalia. That caused widespread protests and controversy.
Later, a federal district judge in Washington granted a temporary restraining order, freezing the ban nationwide, and a federal appeals panel in California upheld that decision.
The Trump administration is weighing its options on how to proceed. As of press time, it's expected that the president will establish another ban that may be acceptable to the courts.
Jaff is a major in English as a second language who emigrated to the United States in 2012. She has a green card, making her a lawful permanent resident and giving her some measure of protection, but she's still concerned about what's going on.
"Maybe in the future, my American friends are going to hate me," Jaff said. "And back home, I have a lot of friends who want to come here to study, and now they can't. It'll make America hate, not make America great."
Jaff isn't alone. General studies student Massooma Mikhwir, 19, who also came from Iraq, thinks the immigration ban is misguided.
"It just doesn't make sense," she said.
Mikhwir has lived in the United States for four years and attended Forest Park for a year. She last visited her family in Iraq in 2014.
Mikhwir, who holds a green card, worries that the immigration controversy will cause Americans to become even more suspicious of Muslims and make them feel more uncomfortable than they already do.
"Americans might think we are terrorists," she said. "(But) not all Muslims are terrorists. Not all are bad."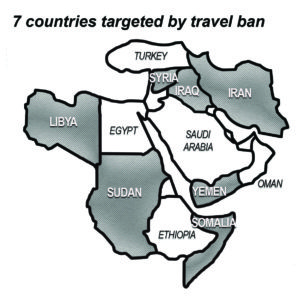 U.S. ctizens also affected

Forest Park bookstore employee Karema Thalbet is a U.S. citizen who was born in the United States. But her husband and other family members are from Yemen.
"I don't agree with the ban or Trump, but I do support him as president because I am an American," said Thalbet, 27, who graduated from St. Louis Community College in 2015 with a graphic design degree.
Thalbet worries that a travel ban will keep families from being together. She thinks diversity in the United States is a good thing.
"This country was built by immigrants," she said.
Thalbet's biggest fears relate to her husband. She married him in Yemen while visiting family in 2013. He emigrated to the United States two years later.
Thalbet's husband has a green card, but she doesn't know what will happen if the courts reinstate the travel ban or if Trump issues a new executive order. If her husband is sent back to Yemen, she plans to go with him.
"I worked too hard to get him here, so I'm not going to lose him again," she said.
Huda Alabed, 30, is a U.S. citizen from Syria. She and her children moved to the United States four years ago.
Alabed has been attending Forest Park for a year and a half, majoring in English as a second language. She still has family in Syria, including her mother, but she hasn't been in that country for five years.
"Trump doesn't like Muslims," said Alabed, who is worried that prejudice could cause problems for her family. "How are my kids going to grow up? They should grow up with everyone nice."
Alabed has found support among Forest Park students and faculty, but she still sees people looking at her with fear in their eyes.
Alabed had to study the U.S. Constitution before she became a citizen, and she thought it gave people the right to practice their religions without consequence.
"But when Trump became president, he showed us how he hates all Muslims," she said. "And it makes me confused about the Constitution. It's not fair. He must say something and give a reason for that. Why is he against the Muslims? (He thinks they're all) terrorists? OK, that's his problem. Is there a problem with me? With my hijab?"
Alabed noted that one of the reasons she left the Middle East was to get away from the terror organization ISIS.
Muslims with a different view

Interior design major Ahmed Aljorani, 42, is a Forest Park student from Iraq who has a completely different view from many international students.
Aljorani, his wife and two children lived in Egypt for 11 years before moving to the United States in 2016. He has no family in Iraq, so the immigration ban doesn't affect him much.
It's Trump's responsibility "to make this country safe," Aljorani said. "He has all the facts and so he can make a better call than I can since I have no facts."
Aljorani isn't the only Muslim on campus who believes the immigration ban is a good thing.
"I think Trump is a good person for your country," said Reza Dadari, 25, a music major from Iran. "He wants to make a good future here, and I believe him because he knows my government, and I know he's right because I was there. They are completely evil."
Dadari, a green card holder, came to the United States in 2015. He has family in Iran.
Dadari believes the United States helped create the "devil," his word for the Iranian government.
He noted that U.S. President Jimmy Carter supported the Iranian Revolution in the late 1970s, when the Shah of Iran was removed and replaced by the Islamic Republic. The Shah government was a pro-West monarchy.
Dadari argues that the Iranian government today is causing many problems in the world, funding terrorism and protecting ISIS.
"(Carter) protected terrorists," he said. "Trump is very clear he wants to protect America. He is not joking around like Obama and Carter."