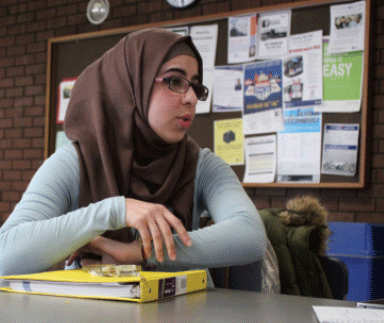 By Niki Best
The Scene staff
Forest Park has more international students than any other St. Louis Community College campus, but only two are visa holders from the seven predominantly Muslim countries affected by President Donald Trump's travel ban.
They are from Iran and Yemen, according to Franklyn Taylor, vice president for student affairs. There also are an unknown number of students who are green-card holders or U.S. citizens from those two countries or from Syria, Iraq, Somalia, Libya or Sudan.
"People are concerned," said Keith Hulsey, a professor who coordinates the English as a second language program and sponsors the International Club on campus. "However, because the ban was only enforced a week, we haven't had much conversation about it."
Hulsey was referring to a temporary restraining order imposed by a federal district judge in Washington about a week after Trump's executive order created the travel ban on Jan. 27. A federal appeals panel in California later upheld that court's ruling.
The administration is weighing its options. As of press time, the president was expected to impose another ban that may be more acceptable to the courts.
The original ban prohibited people from the seven countries from entering the United States. Those already in the United States could stay put, but they couldn't go home and re-enter or invite family and friends to visit.
"No matter what, we will offer counseling to any student that feels panicked or afraid of what could happen in the future," Taylor said. "If any student ever feels this way, I want to know. We just want to help them move forward."
Forest Park officials have discussed the idea of creating a campus round table related to the travel ban, according to Layla Goushey, associate English professor and global education coordinator at Forest Park.
"We'd like for them to have a place to come to not only discuss their experiences, but to also get support," she said. "It would be a great way to understand and to help others understand the complexities in their lives being brought up with this ban."
In the meantime, the International Club is open to students from all over the world.
Hulsey hopes to see Forest Park continue as a campus that welcomes international students and celebrates cultural diversity.
"It could be very bad if non-immigrant students fall victim to this new type of (negative) thought about immigrants," he said. "But what I've seen so far has been accepting and favorable, and that's what we need to continue in our community."