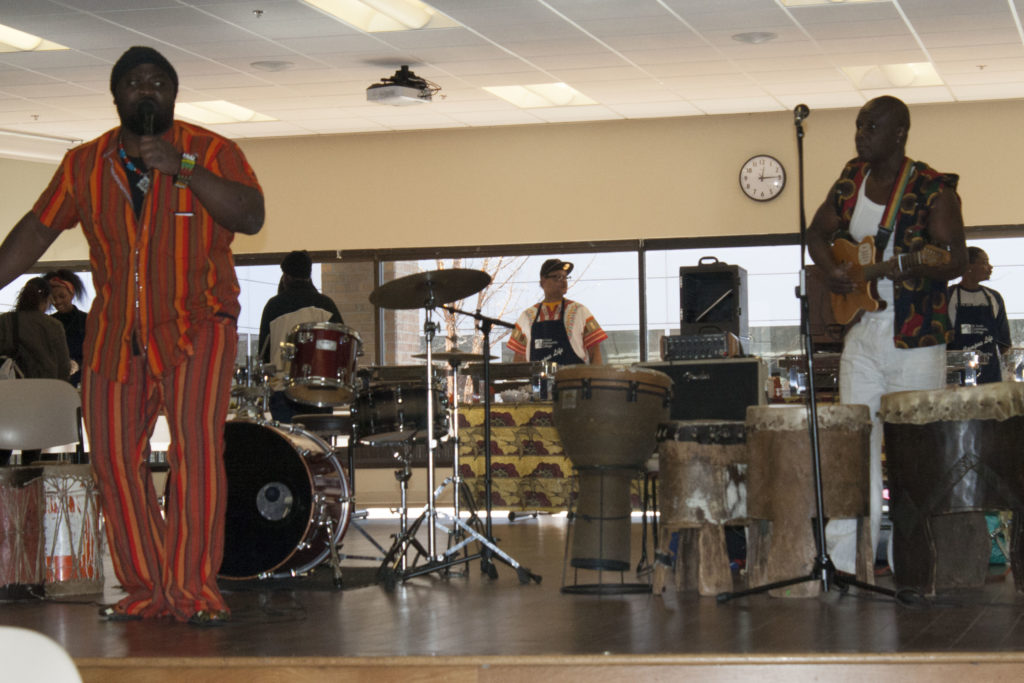 By Nana Ramsey
The Scene staff
Students, faculty and staff have been celebrating Black History Month with a variety of events, including an art exhibit and film festival.
Forest Park is considered the most diverse campus in the St. Louis Community College system, with a significant number of international students and 44 percent (2,277 students) identified as African-American.
"It is a learning opportunity for all to learn about the contributions made by blacks that are not often mentioned," said Franklyn Taylor, vice president for student affairs.
The first event was a kickoff party on Feb. 2 in the cafeteria with entertainment by the Jabali Afrika Dancers and a buffet meal. That was followed by a screening of the film "Olympic Pride: American Prejudice" on Feb. 8, separate from the film festival.

The Campus Life office and Student Government Association co-sponsored the festival, showing 14 films in the Highlander Lounge. It started with "The African Americans: Many Rivers to Cross" on Feb. 3.
"With any cultural celebration, my goal is for students to have more exposure and gain more knowledge," said Donivan Foster, 34, Campus Life manager and SGA sponsor, who chatted with students while serving popcorn.
The last five films will be shown on Feb. 24. Admission is free.

All are PBS documentaries. They include "The Black Panther Party Documentary" at noon, "Emmett Till" at 1 p.m., "Wessyngton Plantation: a Family's Road to Freedom" at 2 p.m., "Little Rock Nine" at 2:30 p.m. and "The Underground Railroad" at 3:30 p.m.
The Forest Park Gallery of Contemporary Art hosted the exhibition "Encoded" through Feb. 23. Pieces ranged from paintings and videos to photos and sculptures.
The exhibit included the work of five young black artists who are attending Washington University or have already

graduated. They are Lyndon Barrois Jr., Addoley Dzegede, Jennifer Everett, Kahlil Irving and Kat Reynolds.
The exhibit was curated by Yingxue Zuo, 63, gallery director and professor of fine and performing arts, with help from Irving.
"This show seems to concentrate on the racial issues that have been building up, just in the last couple years," Zuo said.
Gallery hours are 10 a.m. to 2 p.m. Mondays through Thursdays. Admission is free.

In recent years, some people have argued that Black History Month celebrations are no longer necessary and that the entire premise is biased.
General transfer student Deshawn Jones, 19, disagrees. He thinks it's important to let people know what happened in the past and what African Americans have gone through.
"It's a great idea in general because it (shows) how far we came to get the rights we have today," he said.