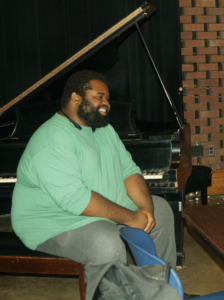 By Shileha Churchill
The Scene staff
Playing piano is about more than making music for Johnny Martin. It's his way of communicating.
Martin practices every day, except Sunday, which he calls "the Lord's Day." His voice is full of enthusiasm when he's talking about his favorite songs or musical goals.
"My friends always call me and say, 'Johnny, man I thought we were going to hang out,' and I always say, 'I'm sorry, I was busy practicing,'" he said, laughing.
The 24-year-old was sitting at a piano in Forest Park's small theater, one of his regular practice sports.
Martin is taking classes at Forest Park and the Florissant Valley campus of St. Louis Community College, with plans to earn an associate's in fine arts. He already has a food management degree from Le Cordon Bleu in St. Louis.
Cooking is Martin's second love. He underwent formal training so he would have something to fall back on if he didn't make it in the music business.
"I told him, 'Get a full-time job that pays the bills so you can take care of yourself, and whatever else you want to do, you can do part time,'" said his mother, Jackie Martin, a retired special-education teacher who now cares for Alzheimer's and other dementia patients.
Martin listens to all the great composers. His favorite is Frederic Chopin, a Polish pianist who composed more than 200 pieces in the early 1800s. One of his dreams is to perform at his childhood home in Zelazowa Wola, Poland.
Martin also enjoys jazz piano. He wishes jazz pianists were better at reading music and that classical pianists had more "freestyle" opportunities.
Martin's Spotify playlist includes classical and jazz, pop-rock and rap.
"As a musician, I don't want to stay in a box," he said. "I want to learn how to play all sorts of genres."
Martin started playing piano at age 16 at West Side Missionary Baptist Church in St. Louis, where he also sang in the choir. That made his mother happy because it kept him away from "drug dealers and gang-bangers."
The church's music minister, Doris Jones Wilson, became Martin's mentor.
"This great woman taught me something that changed me forever," he said.
Martin graduated from Cleveland Naval Junior ROTC Academy, a military prep school in St. Louis. He wasn't planning to enlist, but he thought it was safer than other public schools.
Martin later formed an indie rock and pop band called Dawn's Nightfall, serving as lead singer and writing most of the songs. They practiced in his garage and played gigs at Fubar and Delmar Loop venues.
Martin considered the band experience a valuable one, but he left to focus more on piano.
"I felt my other bandmates weren't as serious about music as I was," he said.
Martin recently took the initiative to schedule and perform a solo concert called "Johnny the Pianist Presents: Minor Keys" at Flo Valley.
He also has a YouTube channel called "Johnny the Pianist," which features videos of him playing his favorite classical compositions.
"The thing Johnny Martin has exhibited over the years is his willingness to work hard, learn the skills and put the passion into his playing," said Paul Higdon, one of his music professors at Flo Valley.  "He plays with passion and love for the potentialities that lie in every piece of music."
Martin inherited a love of cooking from his mother. He always has enjoyed hanging out with her in the kitchen, particularly on holidays.
Martin has worked at several restaurants, including Russell's Café & Bakery. He also has a job stocking shelves at Schnucks.
His favorite food to cook is Russian, and his culinary goal is to perfect Russian cupcakes.
"Russian food is the best food," he said. "It's rich in flavor, and it's fun to cook and to eat."