By Chris Cunningham
The Scene staff
Associate English professor Angela Warfield is always doing something interesting.
She recently made a call-in appearance on the National Public Radio game show "Wait, Wait … Don't Tell Me." It was taped before a live audience in Tampa, Fla.
"It was exciting and surprisingly nerve-racking," Warfield said. "You play along at home, and you get it right all the time, and then you are on the air, and the dread of getting it wrong takes over.
"If I teach English lit and can't get a word-game answer, I am going to look like an idiot."
Warfield won the show's Listener Limerick Challenge by guessing the subject of a limerick. Her prize was an opportunity to have NPR personality Carl Kassel record her voicemail message.
Warfield also recited a limerick that she wrote:
"There once was a girl from the Show Me state,
Who was so excited to play on 'Wait Wait …'

With Tom, Alonzo, Faith, Peter and Bill,

Delivering the week's news with such humor and skill,

She knows this experience is going to be great."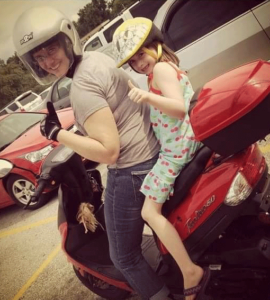 Warfield seems to have a knack for coming up with clever phrases. Whenever students complain that an assignment is too hard, she'll say, "If it were easy, you wouldn't need me."
Warfield, 43, has been a faculty member at Forest Park for 9 years. She teaches composition and fiction but has a quest for knowledge on a variety of subjects. In her free time, she repairs bikes and builds furniture.
"If you care about teaching, you need to have an enthusiasm for learning," she said. "If you want to talk about lifelong learning and you aren't always learning, you are a charlatan."
Warfield's wide view doesn't go unnoticed by friends and co-workers.
"She is amazing, right?" said Forest Park counselor Kathleen Swyers. "She is very energetic. I kind of think of her as a Renaissance woman."
Mom the builder
Warfield started building furniture and repairing bikes after realizing that her old hobby of reading was getting to be tedious.
"I have a job that is intellectual, almost exclusively," she said. "If I am not reading something, I am writing something about what I've read. I am grading, critiquing, analyzing."
Furniture-building came first.
Warfield's first project was a playhouse for her 9-year-old daughter, Paige. She got instructions from library books and internet sites.
"I bought tools, so I had to justify the purchase by creating more projects," she said. "I eventually ran out of things to do in my own home and began calling my friends and asking, 'Hey do you need a bookcase? Do you need a new table?'"
For a couple of years, Warfield showcased her work on a website called "Mom the Builder." She still makes things for people in her neighborhood and recently expanded by offering to put together IKEA furniture.
"When I saw IKEA was coming to town, I figured, 'Wow, this means you are going to have hundreds of suburban ninnies going to IKEA,'" she said.

Sometimes Paige helps with projects, and Warfield gives her a portion of earnings. Paige is getting more and more comfortable with carpentry, including the use of power tools.
"It is a cool way to teach her to be independent, especially as a girl," her mother said.
Warfield got into bike repair after she had a bike accident and got her bike repaired at Billy Goat Bicycle Co. She wanted to learn how to do basic maintenance and asked if she could shadow the technicians.
"All summer long, every Wednesday morning for two hours, I worked in the bike shop," she said. "I brought doughnuts; that was my contribution."
Teaching with passion

Warfield was born in South Dakota and grew up in Washington, D.C. Her mother, Debra, is a retired preschool teacher and father, Jerry, is a retired defense contractor. Sister Erin, 39, works as an accountant for George Washington University.
Warfield decided to study English and philosophy as an undergraduate at George Mason University because she seemed to have a natural aptitude.

"I was good at it," she said. "I was able to read things and critique things and make arguments about things."
Warfield graduated from George Mason University in 1998 with a master's in English. She wanted to become a teacher.
"I wanted to affect students in the same way my professor affected me," she said. "I wanted to give them confidence and support them. I wanted to find what they are good at and give them that appreciation and affirmation."
Warfield earned a doctorate at University of Iowa in 2007 and joined the Forest Park staff the same year. Today, she views teaching as a way to help students develop passion.
"I don't subscribe to the thought of process of not caring or saying, 'Whatever,' or 'I don't have time for those people, in my life or in my classroom,'" she said.
"My whole point of being a teacher is to spark people to care about something. To want to know things. To not be rolled over by life, but figure it out. If you are apathetic, what is the point? Why are you even here?"
Humanities secretary Mary Kearny sees Warfield's friendliness as one of her strongest qualities as a teacher.
"She's very inclusive," Kearny said. "I don't think she knows a stranger. I think that's what keeps her classroom so engaging."
Next generation

General transfer major Chloe Evans, 27, is taking Warfield's Composition I class this semester. She likes her sense of humor in the classroom.
One of Warfield's exercises is called "Spot the Error." She projects student papers on a screen and tosses candy to those who can identify errors.
Warfield's teaching style makes Evans feel both comfortable and motivated.
"She is a great resource of knowledge, and she is so excited to learn with you," Evans said. "If you show up for her, she shows up for you."
Outside of school, Warfield encourages her daughter to be curious and have a sense of adventure, and it's working.
Paige is interested in theater, dancing, jewelry-making and the use of crystals for healing. She has made $350 selling pendants at stores near their home and used the money to buy more jewelry-making supplies, save for college and donate to animal shelters.
"The other day she told me, 'Mommy, are you feeling stressed? Because I can hold this rose quartz over your heart chakra,'" Warfield said.
Mother and daughter also play the game Pokémon Go and take care of their three-legged rat terrier, Chester. They plan on using the dog to encourage amputees.
"We thought, 'How cool would it be to take him to hospitals for kids who had to lose a leg and be like, 'Look man, there is nothing that can hold you back." He doesn't even know he doesn't have a leg,' Warfield said.
"Every day I have a bad day, I just look at this dude and think, 'What do I have to complain about?'"