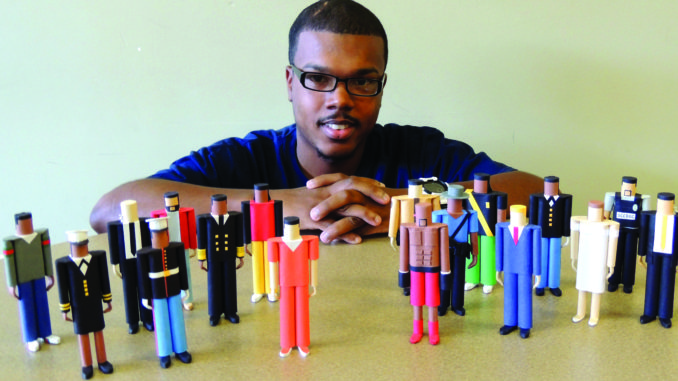 By Shelby Sosa
For The Scene
Calvin Davis is studying to become an emergency medical technician, but his hobby of figurine-making shows his artistic side.
The St. Louis Community College student has made about 800 figurines out of construction paper and glue. There are policemen and firefighters, doctors and nurses, soldiers and athletes.
"One crazy thing that happened to me was that I lost five followers on Instagram because I posted a Donald Trump figurine," Davis said.
The 22-year-old takes EMT classes at the Harrison Center, but sometimes he works on his figurines in the Forest Park cafeteria. People often give him compliments and encourage him to sell his work.
"I was so amazed at the little figures being crafted simply out of paper," said Markeeta Young, a campus visitor.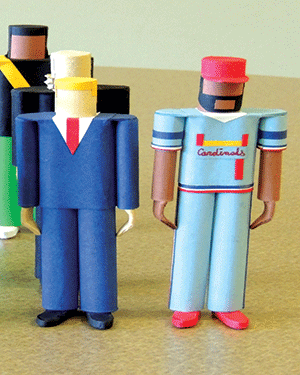 The figurines also have impressed James Joiner, senior deacon at Davis's church, Friendly Temple.
"I really think that it will develop into something magnificent," Joiner said.
Davis got interested in origami, the Japanese art of paper-folding, before he started making figurines.
As Davis got better at origami, he decided to challenge himself by using glue and expanding into figurines."I learned how to make a balloon and a paper crane in a summer program, when I was in the third grade at school," he said.
Today, most of his figurines are about 4 inches tall. It takes him an hour to make one.
"I roll and fold the paper into the sizes I need then glue it together," he said.
Beyond taking classes and making figurines, Davis works with mentally ill patients at St. Joseph Hospital in St. Charles. His career goal is becoming a paramedic.
Davis posts many of his figurines on social media, such as Facebook. His Instagram page is at Cals-_art_designs.
Davis has sold a few figurines for $5 or $10, depending on size. Occasionally, he makes a car or truck.
Eventually, Davis would like to patent his figurines and turn his hobby into a business.  He hopes to have a
Christmas sale this month.
"(His) knack for making these little statue communities of men and women is unique for our generation," Joiner said.