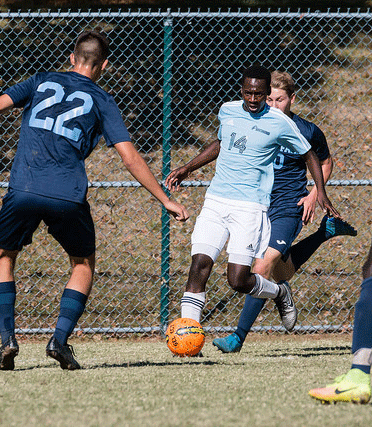 By Timothy Bold
The Scene staff
Despite a 3-1 loss in the NJCAA Division I district championship, the STLCC men's soccer team concluded its best season ever, and coach Tim Mosby has high hopes for the future.
"The scary thing is we might be better than last season," he said.
The Archers, ranked No. 8 in Division I after a 3-1 loss Nov. 5 to Parkland College of Champaign, Ill.,  achieved Region XVI regular season and conference championships and finished with an 18-1-2 record. A win over Parkland would have sent the Archers to the national finals for the first time.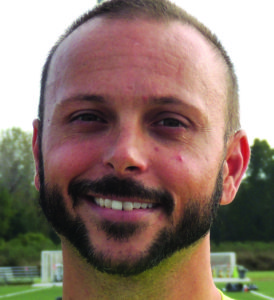 Mosby, who completed his third season with the team, said the players "understand it was school history. It's going to be hard to replace the chemistry that those players developed. They had a really tight relationship, becoming brothers."
Three key sophomores from Britain, Adam Du Toit, Dillon Smith and Casey Bartlett-Scott, hope to continue their careers at four-year colleges. Du Toit, a midfielder, led the team with 10 goals, while Smith, a midfielder, and Bartlett-Scott, a defender, each had seven goals.
Mosby said the sophomores are looking at their playing options for the next two years. "Coaches are calling and emailing me every day from all over the country," he said.
Area schools that have expressed interest include St. Louis University, Maryville, UMSL, Lindenwood; plus Presbyterian College in South Carolina and Drury University in Springfield, Mo.
Another key loss for the Archers is goalkeeper Tyler Dumoulin from Hazelwood West; he had a 13-1 record with four shutouts. Six other St. Louis area players will move on as well.
Next season STLCC returns forward and leading goal scorer Chidera Ude, who scored 12 times; plus defender Connor Summerhill, who had a team-high eight assists; midfielder Harrison Weeks, who had eight goals; midfielder-forward Chris Eduardo, who had five goals; and midfielder Dion Lewis-Kirwan, who had nine goals.
Mosby hopes to maintain STLCC's overseas talent pipeline.
"We got more guys from Great Britain, Jamaica and Scotland from the study abroad program joining the squad," he said.
Mosby will learn more about local prospects in January.
Against Parkland, the Cobras opened the scoring in the 36th minute and made it 2-0 on a penalty kick by Carlos Martinez in the 79th minute after a red card was issued to Ben Holmes, a foul that Mosby called questionable.
With emotions running high, Mosby received a red card two minutes later and was ejected.
Shortly after, with the team shorthanded, Ude scored from Smith to cut the lead to 2-1. Parkland responded quickly and ended the suspense with a goal by Patrick Kuanda.
Mosby said, "The ball just wasn't going our way on opportunities we normally scored on all season. I'm still proud of them, they fought to the end."
The No. 4-ranked Cobras advanced to the Elite Eight in the NJCAA Division I tournament on Nov. 16 but were eliminated 2-1 by No. 5 Cloud County of Kansas.