By Rosalind Rhymes
The Scene staff
AAMI, one of the best-known programs at Forest Park, is getting a third chance to make a difference in the lives of black male students.
The African-American Male Initiative originally was intended to run from 2009 to 2014, but it was extended for two more years under a grant from the U.S. Department of Education's Predominately Black Institutions program. It appeared to be in limbo this fall until it received a one-year extension.
"The government sees the work we're doing," said Sam Huddleston, outreach event coordinator at Forest Park.
About 120 students are involved in AAMI on the Forest Park and Florissant Valley campuses of St. Louis Community College. One is Marlon Smith, 21, an information technology major at Forest Park.
"AAMI has changed me," he said. "I take my education more seriously because of this program."
Smith joined AAMI a year ago and began taking advantage of tutoring, counseling and other services.
"I was frustrated at the start of college," he said. "I didn't have help understanding all the information that was being thrown at me. I almost left Forest Park."
The Predominately Black Institutions program aims to develop and expand educational opportunities for low- and middle-income black students.
AAMI sponsors eight to 10 services and events a month for Forest Park students, including tutoring, mentoring, workshops, seminars, orientations and academic monitoring.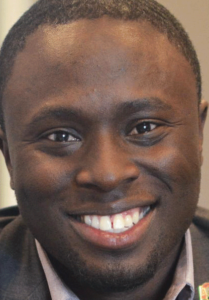 "We try to think outside the box," said AAMI Director Keith Ware, who started as a tutor in 2010. "We offer any program that benefits our students."
One of AAMI's biggest fans is Chester Henderson, president of the Forest Park Student Government Association.
"It's a positive outlet to deal with everyday challenges in a different way," he said.
The AAMI was developed after years of research by the Children's Aid Society and Kirwan Institute for the Study of Race and Ethnicity at Ohio State University. They discovered barriers that contributed to the lack of success among black males, including mental health issues, incarceration and juvenile justice.
AAMI services focus on essential tools needed to succeed. Students learn how to balance their personal, social and academic lives and follow their dreams.
"I was struggling (with college) at first because I have a mental condition," said Marquis Rue, 23, a general transfer student who joined AAMI two years ago. "They informed me that I was still in the fight and that I could do this."
Funding for AAMI through the U.S. Department of Education will end Oct. 1, 2017. Participants can't imagine Forest Park without it.
"Grants aren't meant to last forever," Ware said. "But I hope another program steps up after this program ends."
The AAMI seems to have the support of Larry Johnson, Forest Park's new provost.
"I desire to develop strategies to continue the program through school funding," he said. "It's my commitment to do so."
In addition to Ware, AAMI services at Forest Park are overseen by Huddleston and George Robnett, campus coordinator.
"They were very helpful in basic needs in counseling and everyday troubles," said Michael Barry, 35, a former student who is now a sergeant in the Army.
Beyond college services, AAMI helps high school students in the St. Louis area to prepare for college.
Forest Park students must maintain a 2.0 grade-point average to be involved in AAMI. For more information, call the office at 314-951-9858 or visit www.stlcc.edu, click on "Student Resources" and then "African-American Male Initiative."