By Rylie Frohock
The Scene staff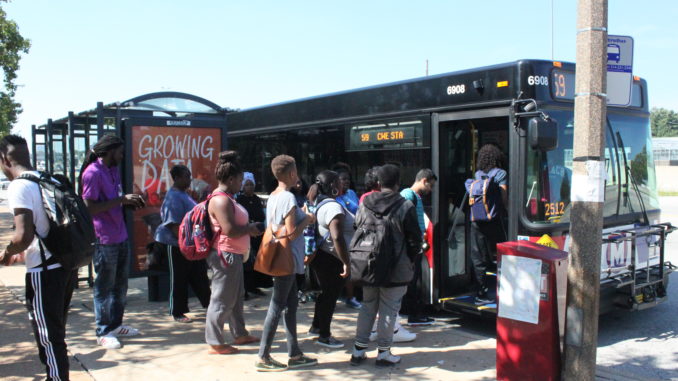 Only 24 percent of Forest Park students are taking advantage of a Metro transportation program offered through St. Louis Community College. About 1,300 students have picked up U-passes this semester, out of 5,440 enrolled. Passes allow free rides on Metro buses and MetroLink trains.
"I am happy about the students who have taken them," said Ena Primous, manager of Campus Business Services, who oversees the program on the Forest Park campus. "I wish more would take advantage of it. It is a wonderful perk for our students to have. Even if you only use it one time, it is still worth it."
Psychology major Tasha McGregor likes U-passes for the obvious reason: They save her money on transportation.
"I don't have to pay out of pocket for a bus pass," she said. "I can just come to school and get a free pass."
About 1,700 students picked up U-passes in the fall of 2015, out of 5,254 enrolled, and about 1,400 in the spring of 2016, out of 5,034 enrolled. The program isn't offered in the summer.
Primous attributes low participation to the fact that many students have their own vehicles and don't need public transportation.
Early Childhood Education major Deja Gibbs either drives to school or catches a ride.
"It's in my family's schedule to drop me off, and they go to work," she said. Gibbs sees how U-passes would come in handy for students without cars. She would get one if she didn't have other options.  "But you always have to be cautious on public transportation," she said.
General transfer student Damilola Jilaramoni, 19, has been using U-passes since last spring. She found out about the program in Campus Life, when she was getting her photo taken for a student ID card. Students can get U-passes at any point during the semester in the Cashier's Office in the Student Center. They need only a student ID card.
"The process was very easy," Jilaramoni said. "All students should know about the passes."
U-passes are good for more than just transportation to Forest Park.
"You can do your grocery shopping, go to the library, go back and forth to work, go to baseball games. …" Primous said. "It's a free-reign pass that you can use for anything."
STLCC joined other St. Louis colleges and universities by offering U-passes in the fall of 2015. That followed Metro's controversial decision to step up enforcement of age limitations on student bus and train passes. Students on all STLCC campuses are eligible for U-passes, including those who receive financial aid, as long as their tuition has been paid. All students pay $1 per semester as part of tuition and fees to offset program costs.
In the beginning, Forest Park promoted the U-pass program by placing signs around campus. Now Primous is taking a different approach.
"We've (promoted it) on the website," she said. "We've relied a lot on word of mouth. I have had a couple of conversations with a lot of faculty members to announce it in their classes. And for the Smartstart students, they have it on their Blackboard page." Primous plans to work more with Campus Life on promotion and continue to seek help from other departments. McGregor found out about the program through the Financial Aid office. "Or you could go to the bookstore," she said.
"But putting the signs back up would be helpful." Jilaramoni thinks all students should participate in the U-pass program. "Even if they are driving cars, they should at least have one in case of an emergency," she said. As a staff and faculty member, Primous knows many students face personal struggles, particularly relating to money and transportation. She sees the U-pass program as one way to relieve stress. "The added bonus is, not only can we help you succeed in your education, it's also helpful in your personal life," she said. "Sometimes when you take care of those things personally, school goes well."