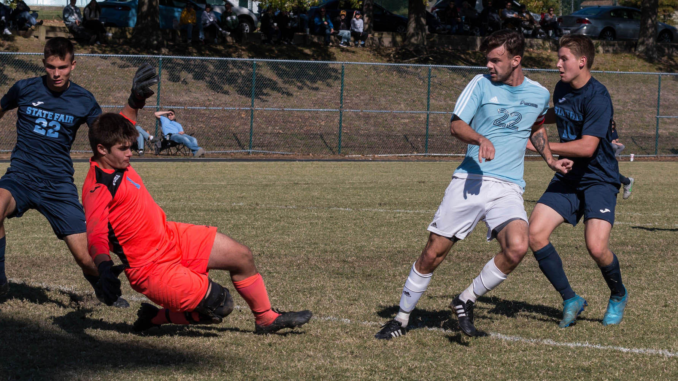 By Timothy Bold
The Scene staff 
The St. Louis Community College men's soccer team is one game away from reaching the national tournament for the first time.
The Archers, ranked No. 6 in NJCAA Division I, clinched a berth in the district final after winning a tough-fought 3-1 regional final on Saturday over Crowder College at Meramec.
No. 4-ranked Parkland College of Champaign, Ill., hosts the district championship game against STLCC on Nov. 5.
STLCC, now 18-0-2, is the Region XVI regular season champion boasting a 13-game winning streak with seven players earning all-Missouri Community College Athletic Conference team honors.
In three seasons, coach Tim Mosby has rebuilt the program after he inherited a team that went 2-16-2 in 2013. The Archers were 7-10 in his first year, then 16-6-1 last season before breaking out in 2016.
The team's success earned him MCCAC coach of the year honors. He was a former All-American player at STLCC-Florissant Valley in 2000-01.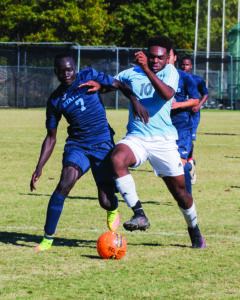 "We weren't expecting to be this good this season going undefeated," said Mosby, who formerly was an assistant coach at Marquette High School in Chesterfield. "The team is unselfish, doing whatever it takes to win."
They make up five of the team's six leading goal-scorers: Du Toit has 10, Lewis-Kirwan has nine, Weeks has eight and Bartlett-Scott and Dillon each has seven.
The eight Brits are part of a program STLCC tapped into two years ago that encourages the players to study abroad.
"I have a friend that plays over in England and scouts players," Mosby said. "The level of soccer is so high and gives players an opportunity to play overseas if you don't play professional."
Summerhill loves the experience. "I always wanted to come to America," he said. "This program is moving forward with good progress. We got a team with cohesiveness and click together very well."
Eduardo said, "I came here because of Coach Mosby, plus a scholarship for my education."
The roster counts 12 St. Louisans, plus a Kansas City-area freshman, Chidera Ude, who leads the team with 11 goals.  "I expected him to be putting the ball in the net," Mosby said.
One of the team's British players was freshman goalkeeper Kallum Lunn, who started seven games early in the season before deciding to return home.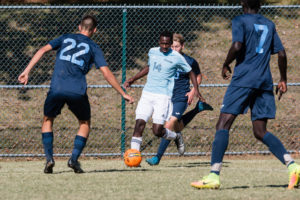 He was replaced by sophomore Tyler Demoulin, a Hazelwood West product who has won each of his 13 starts with four shutouts and a 0.78 goals-against average.
"I think our depth is the reason for our success," Mosby said. "It's competitive to make a spot on the team. There's not one really good player. We're collectively sound all the way around."
Seven players made the all-Missouri Community College Athletic Conference team. Du Toit, a midfielder, and defenders Bartlett-Scott and Summerhill made the all-MCCAC first team. Midfielder Weeks, who had a hat trick in the regional semifinal and scored the game-winner against Crowder, joined midfielder Lewis-Kirwan and forward Ude on the second team.
In the regional championship game against Crowder, Weeks broke a 1-1 tie in the seventh minute of the first half on a setup from Summerhill. In the opening three minutes, Lewis-Kirwan gave the Archers a 1-0 lead before Crowder tied the game shortly after.
"We displayed a lot more heart and passion than Crowder," Summerhill said.
Du Toit added, "We're doing everything the same we've been doing all season. We're just enjoying ourselves."
The Archers meet a Parkland College team that is 19-1. The two clubs faced one common opponent, St. Charles Community College, whom the Cobras beat 5-1 on Sept. 17. The Archers tied SCCC 3-3 on Sept. 9.  The winner advances to the national tournament in Tyler, Texas. Pool play runs Nov. 14-16 with final four action set for Nov. 18-19.