By Chris Cunningham
The Scene staff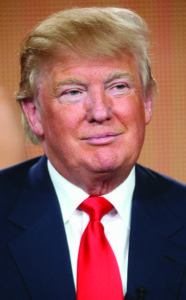 Both the Clinton and Trump campaigns are courting young voters to help them win the presidency. It is not too late for Forest Park students to register to vote in the Nov. 8 general election. All registration in Missouri ends Oct. 12. Online registration in Illinois ends Oct. 23.
Chester Henderson, president of the campus Student Government Association, thinks it is especially important for young people to vote. "The laws and policies that are going into effect are going to affect young people, especially down the line," he said.
Millennial generation voters (ages 18 to 35) are now tied with baby boomers (51 to 69) in percentage of the U.S. electorate, according to Pew Research Center. But young people traditionally vote at lower rates. Pew reported that 50 percent of eligible millennial voters cast ballots in the 2008 election, compared to 61 percent of generation Xers and 69 percent of baby boomers. Some 46 percent voted in 2012.
Forest Park humanities professor Mark Kruger, 67, considers the current election the most important in his life. "I never was a big fan of Hilary, but I really feel Trump is dangerous," he said. "I don't think Trump knows anything about foreign policy, and he is just interested in what will benefit him. I think this whole thing is about money." Kruger notes that the U.S. Supreme Court is tied 4-4 in cases where conservatives and liberals stick together. A ninth seat has been vacant since the death of Justice Anthony Scalia in February. The next president is likely to appoint at least two justices, maybe more. Speaking of a possible Trump administration, Kruger said, "I think the Supreme Court needs to be protected from these people."
Other issues important to young people include college costs, job opportunities, civil rights, health care and climate change.
Recent national polls have shown that Democratic candidate Hillary Clinton has greater support (60 to 30 percent) among young voters than Republican candidate Donald Trump.
This is the first presidential election that Forest Park general transfer student Genesis Tafari, 18, is eligible to vote in. She has registered but is not fond of either major candidate. "Hillary is a carbon copy of what we have been getting, and Trump seems to be a moron," Tafari said. "I would've preferred Bernie Sanders. Maybe he was too idealistic, but that's exactly what I liked about him."
The Missouri Secretary of State website allows people to register online (click on "Register to Vote" in the shortcuts banner). Or they can print and mail an application, find a local office to register in person or have an application mailed. The website also offers a polling place locator, directing voters to their assigned polling places based on their home addresses. Here, Illinois voters can register online as well.
Polls will be open from 6 a.m. to 7 p.m. on Election Day. Missouri voters need to come with identification in the form of a government-issued photo ID, a current utility bill, paycheck, government check or government document with name and address.
Photography laboratory technician Ryan Gine, 28, has a theory about why many young people don't vote.
"I think some people think of it as a chore as opposed to a right," he said. "I know my vote probably doesn't really matter because of the Electoral College, but I still want to vote."