By Rosalind Ryhmes
The Scene staff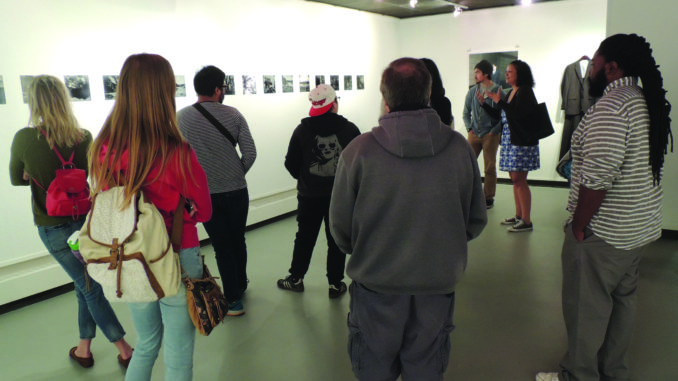 DeAnna Michele Anderson was looking for more than landscapes when she traveled to South Carolina to take photos.
She shot black-and-white images of trees, streams, farm fields and skies.
"Each photo is taken in a space where slaves were present," she said. "I want my work to help people change people."
Anderson is one of four photographers whose work is displayed in the Alumni Photography Exhibition in the Gallery of Contemporary Art on campus.
Photographers shared their stories with people who attended an opening reception on Sept. 29. Anderson got the ball rolling.
"My inspiration comes from my personal life," she said.
Anderson, 36, is a Forest Park graduate and mother of two. As a bi-racial woman, she has often faced racism, including hurtful Facebook posts, from the white side of her family.
Her South Carolina trip was a photo expedition but also therapy.
"I was seeking to reconcile my feelings of fear and anger by searching for clarity and peace," Anderson said. "I wanted to engage with the energy still present in the land where African culture and American culture first co-existed. That's why I chose Charleston."
In the 1700s, many ships full of African slaves bound for the British colonies landed in Charleston, S.C., and were sold at its slave market.
Besides being interested in the land, Anderson wanted to go to the Atlantic Ocean to touch water that had carried the slave ships.
Anderson is displaying 19 photos in the exhibit. Her images are printed on metal plates that represent shackles.
"I hope people experience my landscape study in a positive way," she said.
The purpose of the exhibit is to celebrate the accomplishments of talented alumni, according to Jamie Kreher, chair of the fine and performing arts department.
The other three photographers in the exhibit are Jason Gray, Sarah-Marie Land and Andrea Land. They're displaying about 50 pieces total.
"The work by the three artists is very different in a lot of ways, but I think they all share an interest in sociological and cultural aspects of their subject matter," Kreher said. "It's fascinating to see how their approaches diverge.
"DeAnna Michele has a very expressive and atmospheric approach in her representation of the sites of slavery in South Carolina.
"Jason is utilizing the snap shot form in his documentation of St. Louis, while Sarah-Marie and Andrea Land use a very formal and posed portrait format in their representation of the salaryman phenomenon in Japan."
The gallery is open from 10 a.m. to 2 p.m. Mondays through Thursdays in D-118. Admission is free. The exhibit will end Oct. 27.
A second reception will be held from 5 to 8:30 p.m. Oct. 8 as part of the Midwest Regional Society for Photographic Education Conference in St. Louis.