By Chris Cunningham
The Scene staff
Forest Park students who need access to cash in their bank accounts while on campus got good news at the start of fall semester. ATMs are back.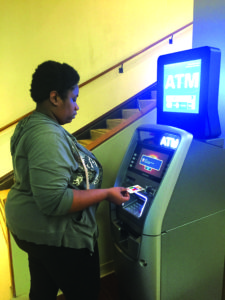 Two machines have been installed in the Student Center. One is in the hallway near the bookstore, and the other is in the cafeteria. "These ATMs are part of the Allpoint network," according to the Aug. 31 edition of FP Weekly, an online newsletter for faculty and staff. "Students with a Vibe account (formerly OneAccount) can access their funds at these ATMs at no cost," the newsletter account added. "Transactions for institutions that are not part of the Allpoint network will incur a $1.99 fee, as well as any fees your bank may charge." ATMs disappeared from St. Louis Community College campuses in May, forcing students to go to Allpoint machines in off-campus locations.
The former ATMs were owned by Higher One, and STLCC had stopped doing business with that company. In July, STLCC Controller Celeste Metcalf reported that the college was struggling to find an ATM provider because the amount of ATM use on campus is relatively low. Two weeks before school started, the college signed a five-year contract with Statewide Processing to provide ATMs. It's a credit-card processing organization, not a bank. "Statewide is not subject to traditional banking regulations because they don't hold deposits, so their costs are lower," said Paul Zinck, STLCC vice chancellor of finance and administration.
General transfer student Erickson Washington, 35, used a campus ATM to get money out of his Vibe account this month. "Somebody told me (the ATMs) were gone, but I am back and here one is," he said. "Having an ATM on campus isn't that big of a deal to me, but it is nice to have one."
General transfer student Jerrica Edwards, 29, didn't even know the ATMs had been removed over the summer.
"If there were no ATMs here, that would've been a real nuisance," she said.