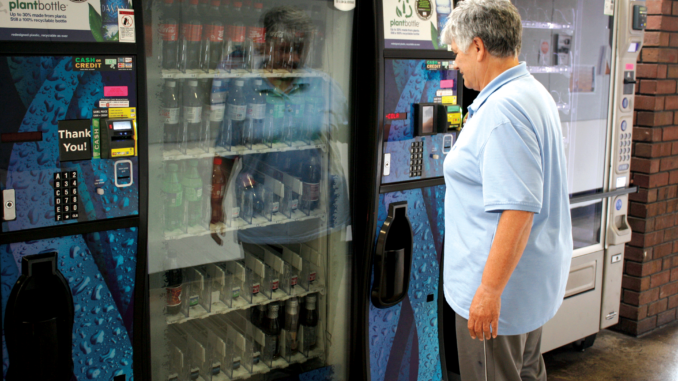 By Morgan Bradley
The Scene staff
Forest Park students will be greeted by new beverage and snack options this fall.
For 15 years, Coca-Cola products have been a fixture on all four St. Louis Community College campuses. Now Pepsi is stepping in after agreeing to a five-year contract worth about $160,000.
The change also will apply to fountain drinks in the cafeteria.
The news thrilled Angela Johnson, event operations coordinator and a student in hospitality, travel and tourism.
"Cokes are so strong, they burn my throat," she said. "I hope we keep the changes."
Many of Coke's familiar red and white vending machines already have been replaced around campus. Pepsi sells Smartwater, Fanta and FUZE instead of SoBe, Mountain Dew and Tropicana.
"(Pepsi) had a way better offer for our campuses," said Christy Hart, Forest Park's auxiliary services manager.
Hart was part of a group of college officials who recently agreed to new contracts with Pepsi and Treat America. The latter already has been operating STLCC cafeterias and will continue to do so.
In addition, Treat America is taking over snack machines around campus, formerly operated by Canteen. Trucks have been delivering new products in recent weeks.
Vending machines are a sore subject on the Forest Park campus. Students, faculty and staff often complain that they don't function properly and cheat them out of money.
Protocol has required people to get refunds in the campus book store. Employee Erica Raspberry estimates giving refunds five to seven times a week.
"People would say they lost $20 or more at the machines when they hadn't even used them, so we made it a $3 limit on refunds," she said.
What soft drink does Raspberry prefer? Pepsi, definitely. Another happy customer is Stacy Bats, 35, who works in Campus Life.
"I love Pepsi," she said. "I was so excited to hear about the change a few weeks ago."
Bats not only loves the taste of Pepsi but also the design of its blue, white and red vending machines arond campus.
"They have a water spout so you can get fresh cold water for free right out of their machine," she said.
The transition between Coke and Pepsi and Canteen and Treat America vending machines is going a little slower than expected this summer, Hart said. Some machines stand in hallways, empty or nearly empty.