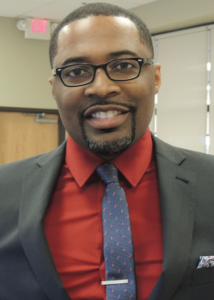 By Chris Cunningham
The Scene staff
Larry Johnson doesn't believe people should be limited by their circumstances.
The new Forest Park provost uses his own life as an example. His mother died in a car crash when he was 11.
"I could have gone to drugs and the streets," said Johnson, 35. "But I didn't let my circumstances keep me from being successful."
Instead, the Florida native earned a doctorate degree, taught at a technical college and a community college and became a college administrator.
"Her death was an opportunity for me to do some soul searching," he said. "It helped me find the essence of leadership."
The St. Louis Community College Board of Trustees hired Johnson last spring from a group of eight finalists after a district reorganization that eliminated presidents at individual campuses and replaced them with provosts.
He formerly served as associate dean at Broward College in Fort Lauderdale, Fla. for two years.
Leslie Johnson, a Forest Park graduate who volunteers for the Campus Life programming board, gave the new provost his first tour of campus. She described him as very engaged.
"He took a lot of notes and conversed with a lot of people," said Leslie Johnson, 56, who is no relation to Larry Johnson. "He seemed very open to their ideas and made it clear he has an open-door policy."
Larry Johnson sat down for an interview with The Scene three business days after starting work in July.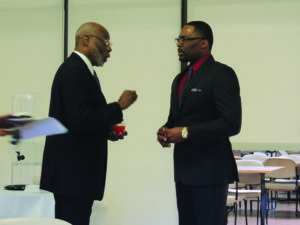 "I don't know what all the issues are, but I know there are some concerns," he said. "I want to focus on having faculty and staff invested in the campus and raising morale."
During the interview, Johnson sported black glasses, a gray fitted suit and a Bluetooth headset hanging around his neck.
"He is very approachable," said his college friend, Sam Blue, 31, of Palm Beach, Fla. "He may not always smile, but that doesn't mean he isn't very approachable."
Blue, who works in hospitality management a resort, met Johnson through a black student union at Florida State University.
Former Forest Park president Cindy Hess left the college in May of 2014, when Rod Nunn took over as interim president. Nunn became STLCC vice chancellor of student affairs in April.
The switch to provosts on the Forest Park, Meramec, Florissant Valley and Wildwood campuses represents a move toward a more centralized system.
"(Under the president model), a student goes to one campus and learns one thing," Johnson said, "but they can go to another and learn something completely different."
Johnson was born in Belle Glade, Fla. His mother was a nurse. His father works as a truck driver. His sister, 33, is doctor at a Veterans Affairs hospital. His brother, 25, is a consultant with an MBA.
Johnson believes his mother's death caused him to become resilient.
"Losing my mom and having a father that wasn't around so much forced me to turn lemons into lemonade," he said.
Johnson began playing saxophone in ninth grade. He performed in the concert band, jazz band and marching band. He still loves that kind of music.
"Talk about marching bands with him," Blue said. "That is an easy way to talk to him. If you talk about that, he is all ears."
Johnson earned his bachelor's degree in English in 2004 at Florida A&M, where he played saxophone for The Marching 100 ensemble.
That's where Johnson met Marlon Dortch, now an administrator at George Mason University in Fairfax, Va., who remains a close friend.
"Larry is a genuine person," Dortch said in a telephone interview. "That is definitely what kept us connected. It was the genuineness of him wanting me to succeed that kept us together."
Johnson earned a master's in humanities and medieval to baroque studies at Florida State in 2007 and a doctorate in English at Clark Atlanta University in 2011.
His doctoral thesis focused on the way black women authors have challenged traditional notions of masculinity and femininity. He examined three books, including "The Color Purple" by Alice Walker.
"Alice Walker redefined roles of masculinity and femininity to establish balance," he said. "Masculinity and femininity must be embraced to be whole."
Johnson started working as an adjunct faculty member at Tallahassee Community College in 2005, teaching Western civilization, composition and rhetoric and developmental reading and English.
In 2007, he became chair of arts and sciences and development education at Georgia Piedmont Technical College in Georgia.
Johnson sees college administration as an avenue to advocate for those who can't do it for themselves.
"Becoming a chair helped me realize the students have needs," he said. "Being a dean made me realize the plight of faculty. I understand how to support both."
In his free time, Johnson likes going to plays and musicals. He still performs occasionally with a Florida A&M alumni marching band.
Johnson considers himself a "foodie," particularly enjoying Vietnamese food and tempura sushi. He listens to gospel, R&B and neo-soul music. His favorite artists are The Clark Sisters.
"I was raised on gospel," he said. "I learned about popular music because of marching band, but if I get in the car, I am listening to gospel music."
Johnson was raised Pentecostal. He became a Baptist later in life.
"Spirituality has been a light that has helped me weather the many storms of life," he said.