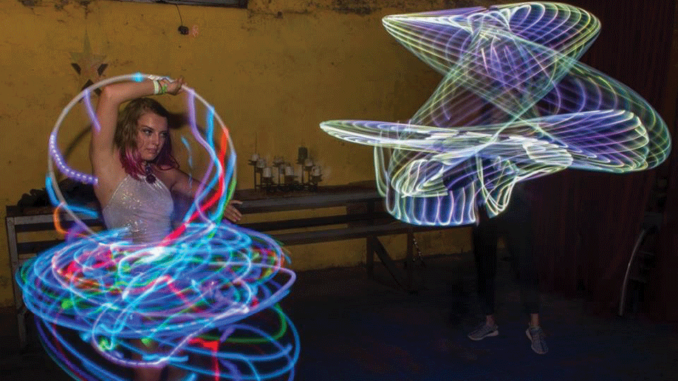 By Timothy Bold
The Scene staff
The green brick building on Park Avenue housed a tobacco factory in the early 1900s, then it became a shop for McDonnell Douglas.
Today, it's a music hotspot, where St. Louis bands rehearse and record and crowds gather to see performances by regional and national acts.
Amy Harrison, a former Forest Park photography student, opened Utopia Studios near St. Louis University Hospital in 2004 with her husband, Spence.
"We purchased this building as a raw warehouse, which was like a blank canvas," Amy said. "Adding all the rooms created a layer. The different artists, such as musicians, dancers and other creative individuals, are the portraits in the painting."

One of the most popular activities at Utopia is Turnt Up Tuesdays. D.J.s spin from 10 p.m. to 2 a.m. every Tuesday.
The Harrisons got the idea for the business while living in England for a short time and seeing music facilities popping up everywhere.
"We knew St. Louis needed it," Amy said. "Bands needed a place to rehearse, keep moving forward and store their equipment; a safe, neutral environment that is conducive to making music without distractions."
In the past 12 years, the Harrisons have gradually made 39 rooms available for rent. They also offer instrument and P.A system rentals.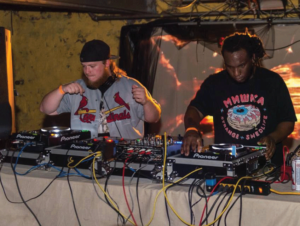 Utopia has two stages for live concerts, one on the main floor and one in the basement. Well-known performers have included Devon Allman, Gregg Allman's son; rock guitarist and singer Robin Trower and Jamaican reggae band Black Uhuru.
The facility also has a recording studio, where bands and solo artists can record music. It's run by Sound Engineer Steve Marshall, bass player for The Mercs rock band.
"I love my job," he said. "It's something different every day with no limitations on volume and studio time. All genres are welcome, being a creative space for everyone."
People who walk in Utopia's door may hear everything from classical to heavy metal coming out of rented rooms at the same time.
On a recent Thursday night, hard-rock band Even Then was recording tracks for its debut album, "A-MEND."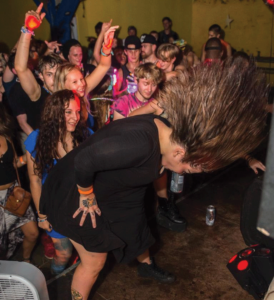 "It's a comfortable place to record," said guitarist and vocalist Chris Zuver. "The experience is very good. We've been recording our new album for over a year now."
Former members of hardcore bands Runner Up and Facing Infamy also rent a room monthly for practice and storage.
"Can't beat the price, and (I like) hanging out at the bar," said Ryan Hedge, who plays bass guitar and sings back-up.
Ryan was speaking of the Utopia lounge, which has eclectic mix of furniture, walls lined with vintage concert posters and a bar illuminated with colorful lighting.
Jazz trumpet player Hassan Kasimu also rents a room monthly. He lives in an apartment, where trumpet music would not be appreciated.
"I clock in and do my thing every week," he said. "(There are) lots of options. They provide a great service for musicians."
Admission for Turnt Up Tuesdays is free for ages 21 and up; $5 for younger music-lovers. Concert prices vary.
The facility has a full-service bar with alcoholic beverages and food, including breakfast cereal and pizza. There's also an outdoor patio, which doubles as a smoking area.
Utopia is at 3957 Park Ave. on the historic strip that was known as "Tobacco Road" when the building was constructed in 1904. For more information, call 314-773-3660 or visit www.utopiastl.com.