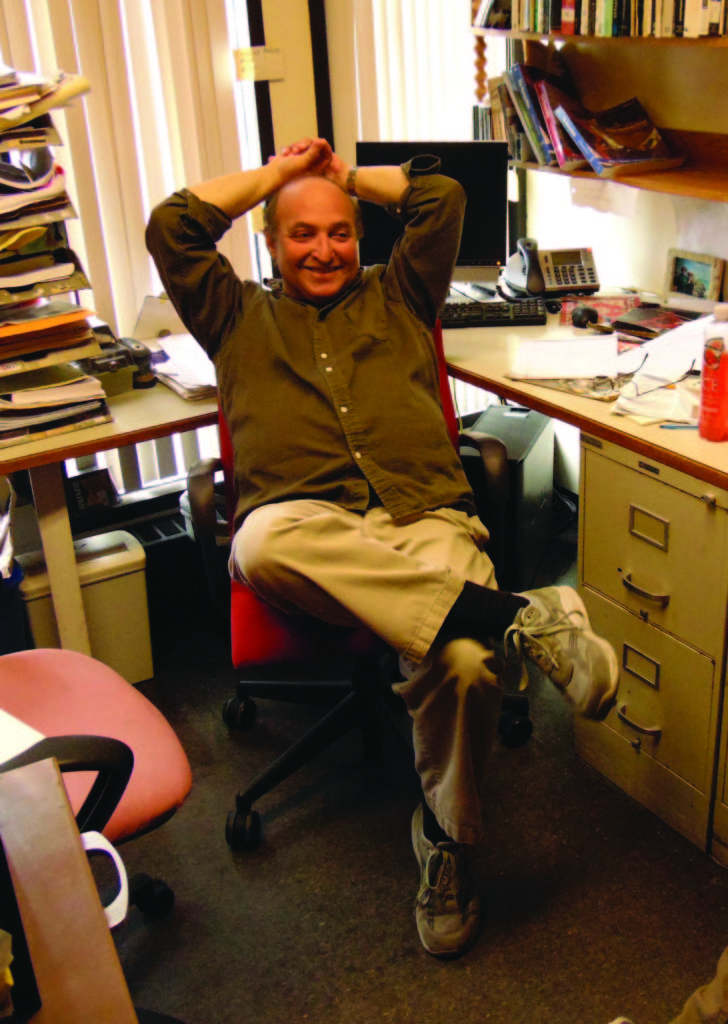 By Chris Cunningham
The Scene staff
Many children idolize athletes. Humanities professor Mark Kruger idolized a lawyer who represented unions and championed civil rights.
"Ever since I was a little kid, I would get these books and read about Clarence Darrow," he said of the defense attorney best known for the Scopes Monkey Trial in 1925.
"And that's what I decided I wanted to do. I wanted to represent people who didn't have anyone else to speak for them. It was kind of ingrained in me since I was small. I have always identified with people who were fighting for their fair share."
This passion has guided Kruger's work over the past four decades. As a former municipal judge, he tried to keep poor people from being fined disproportionately. As a lawyer, he frequently represents people pro bono.
As a professor, Kruger, 67, emphasizes that students can make a difference. This is especially true in his class called Movement Culture of 1960s America.
"Participatory democracy was a big deal in the '60s," he said. "Now people seem to go to sleep, wake up every four years, vote and go back to sleep. But you can't have a healthy democracy if people are doing that.
"I try to stress to (students) that the stuff they are learning is the stuff they can use to make social changes that benefit them, if not their children."
General studies major Angela Rioux, 51, is a former student in the Movement class. She called it an "eye-opening experience."
"A lot of people feel like they can't do something about the way things are," she said. "When you listen to the stories about the Freedom Riders, those who walked the marches and even the ones who blew up buildings, it gives you an appreciation for what we have today."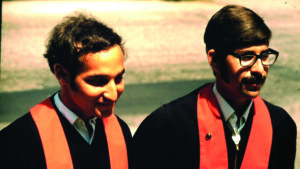 General studies student Leigh Bosler, 23, also took the Movement class. She saw many parallels between problems of the '60s and today.
"To see how people in that time persevered and lived through the most tumultuous decade of the century is inspiring," she said.
Wisconsin to St. Louis

An only child, Kruger grew up in Kenosha, Wis. His father, Henry, owned a bar, and his mother, Pearl, helped run it.
Kruger graduated with a bachelor's degree in political science from University of Wisconsin-Madison in 1970. He was torn between law school and graduate school in political science.
Law tipped the scales. Kruger graduated from Washington University School of Law in 1973.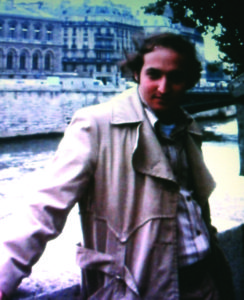 "It was a very exciting time to be a lawyer because the Supreme Court was very liberal, and there was a lot going on, and people needed lawyers," he said.
While at Wash U, Kruger did research for the Missouri Public Interest Research Group, a consumer-protection organization he founded. He also sold newspapers for the Black Panthers.
"The Black Panthers would call us and ask us about what the laws were about carrying guns and self-defense, so we would look stuff up for them," he said. "Through that, one day they asked me if I wanted to sell papers.
"I was a little white guy selling the Black Panthers newspaper."
After law school, Kruger lived briefly in Chicago before returning to St. Louis in 1976 to be with his girlfriend, Debbie Benoit, a divorce lawyer who is now his wife.
Kruger worked in the East St. Louis legal aid office and later for private firms, most notably Susman-Sherman. In 1999, he and his wife formed Kruger-Benoit, which specializes in family and divorce law.
Interesting legal career

Kruger has represented professional athletes — such as Cardinals rightfielder Tito Landrum in the '80s and former junior welterweight champion Terron Millet in the 2000s — on everything from divorces to contracts.
In 2001, Kruger took on the case of Tandra Wecker, a Missouri woman trying to regain custody of her twins, whom she had given up for adoption. They were in foster care, having been taken away from their adoptive parents, a British couple.
Authorities had accused the couple of buying the twins and Wecker of selling them because of a fee paid to Wecker's "baby broker," who facilitated the adoption.
"(Wecker) told me she had no money, and I felt so sorry for her," Kruger said. "She didn't do anything wrong, and suddenly she is the most hated person in the world."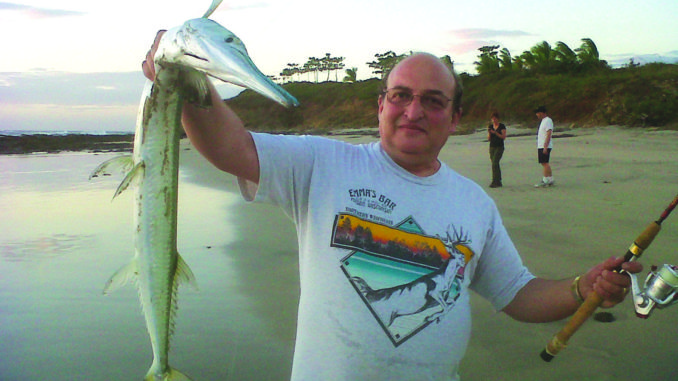 The case became known as the Internet Twins Case. It made international headlines and went all the way to the Missouri Supreme Court. After seven years, Wecker got joint custody of the twins.
Kruger appeared on "Good Morning America," "Dateline" and "The Montel Williams Show" to discuss the case, which he handled for free.
"He gave his time and money to help me in my case," said Wecker, 41, who now lives in Tampa, Fla. "(His help) changed my life for the better. For him to take a high-profile pro-bono case was amazing.
"We were just trying to get my name vindicated, and we did."
Wecker works as a home health nurse. She still keeps in contact with Kruger.
"I love Mark to death," she said. "Out of everyone that was my attorney back then, he is the only I keep in contact with."
Courtrooms and classrooms

Beyond private practice, Kruger served as Pagedale city attorney for three years in the '70s and municipal judge from 1980 to 2012. He also was a municipal judge in Clayton.
In Pagedale, instead of fining people for driving without licenses, Kruger would require them to show up in court every month until they were eligible to reapply.
Kruger said the mayor fired him from the judgeship for not fining people enough.
"I said, 'These are poor people. You can't do this,'" Kruger said. "They were balancing their budget on the backs of these people."
In 2000, Kruger earned a doctorate in American studies at St. Louis University. His dissertation involved studying the East Wind commune in Tecumseh. He taught at SLU until 2007 then joined the Forest Park faculty, allowing him to focus more on teaching and less on research.
"(In the classroom), people can ask immediate questions, somebody else hears it and they get passionate and start an argument," he said. "I think that's how people grow, having your beliefs confronted by something different and challenging them.
"If nothing challenges you, you will never change. That's why I like the dynamic aspect of the classroom."
Today, Kruger teaches Humanities 1600 to Present, Humanities Pre-History to 1600 and Movement Culture of 1960s America.
Social work student Catherine Sullivan, 50, took the Movement class last semester. In many ways, it challenged her world view.
"I grew up white in south St. Louis and went to private schools, and the thing I enjoyed the most was the stuff about the Black Panthers, because I was led to believe they were bad," she said. "I think that class made a lot wrongs in my mind right."
English professor Ron Hughes has shared an office with Kruger for nine years. He's been impressed by the amount of time Kruger devotes to students.
"Not just about school stuff," Hughes said. "He even helps them with legal conundrums they may have gotten themselves into."
One student was particularly appreciative of Kruger's help.
"He had a student who had some legal issue, nothing serious, but Mark helped him clear it up," Hughes said. "The student wrote the dean a letter and said he would give Mark a kidney if he ever needed it. That's how much he loved Mark."
Fishing and traveling

In his free time, Kruger enjoys fishing and traveling. He's been to Turkey, France and Costa Rica.
He's also made five trips to Cuba, starting in 2003 as part of a research project. For decades, only academics and other U.S. citizens on official business were allowed to enter the country.
Kruger found Cuba's political system and economy very interesting.
"They tried an experiment to establish socialism," he said. "They attacked crime and education. There are a lot of problems, but you don't hear about the positive things."
Kruger has seen many changes in Cuba in the past 13 years.
"It used to be when you went there, everything was cheap," he said. "No one knew English, and there were no tourists. There are a lot more tourists and privately owned restaurants. The only thing that is the same is all the old cars."
Earlier this year, Kruger attended a series of lectures in Cuba with Forest Park Spanish professor Antonia Perez-Franco. Kruger served as interpreter.
"Anything that was happening at one of these gatherings with the locals, he would be commenting on the side and describing the meaning of what they were saying," Perez-Franco said.
In his spare time, Kruger enjoys reading non-fiction books about the '60s. His last read was "An American Radical: A Political Prisoner in My Own Country" by Susan Rosenberg.
Kruger said traveling and the basic necessities in life are all he really wants.
"I don't care about the money," he said. "I want to help people. Everybody wants a comfortable living, do a little traveling, have food to eat and a place to sleep, but above that, I really didn't care that much about it.