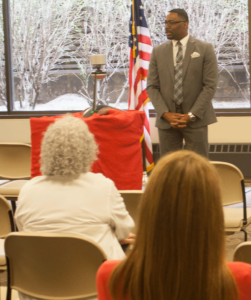 By Samantha Higgins
The Scene staff
An associate dean at a community college in Florida will be Forest Park's new provost, replacing Interim President Rod Nunn.
The St. Louis Board of Trustees voted to hire Larry Johnson during a special meeting on April 6. They also chose Carol Lupardus as provost for the Meramec campus. She now serves as vice president of academic affairs at Florissant Valley.
"Dr. Andrew Langrehr and I will work closely with these two exceptional leaders and other college leadership to determine a transition timeframe for their respective campuses," Chancellor Jeff Pitman stated in an April 6 email to faculty and staff.
Langrehr is the college's vice chancellor of academic affairs.
The appointments of Johnson and Lupardus are part of an STLCC reorganization plan that is replacing presidents with provosts at Forest Park, Meramec and Florissant Valley and an associate provost at Wildwood.
"The provost model is a model that increases student interaction, increases student services and should bring students closer to administration by decreasing administration," said Keith Fuller, an STLCC staff attorney and co-chair of the Campus Provosts/Associate Provost Search Committee.
Nunn began his new position as STLCC vice chancellor of student affairs on April 1. The college had hoped to have his replacement on the job by July 1.
In the meantime, president/provost duties at Forest Park have been split between Ame Mead-Roach, vice president of academic affairs, and Franklyn Taylor, vice president of student affairs.
"We have already re-engaged the co-chairs (of the search committee) to begin work on filling the vacancies for the remaining provost and associate provost positions," Pittman stated in an April 1 email.
Johnson was one of eight finalists selected by the search committee. They participated in forums last month at all four campuses.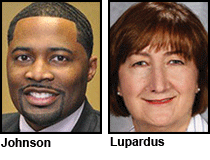 Johnson is associate dean of academic affairs at Broward College-South Campus in Fort Lauderdale, Fla. He formerly served as an English instructor, student concerns officer, associate professor and division chair of Arts and Sciences and Developmental Education.
At a March 24 forum, Johnson explained that he was drawn to working at community colleges because of his own positive experience attending one.
"I actually come from a single-parent household," he said. "My mom died when I was 11, my sister was 9 and my brother was 6.
I always share that information with my students and my faculty so that they better understand that the community college has afforded me the same opportunity that it's now affording many of our students."
Johnson researched STLCC before applying for the provost position, taking note of student demographics, political climates, funding and area elementary education systems.
"It's more about, 'Where can I move in my academic career and remain there for an extended time?' Where I can see growth, I can see change, and I can be the agent to cultivate that change," he said.
Johnson said the biggest problem he faced at Broward College was lack of communication between campuses. He quickly sought to make improvements.
"In my first 30 to 60 days on campus, I established a partnership throughout the campuses, where we meet monthly to talk about student learning outcomes, different initiatives, technology, how to leverage it to support the student so that the message that is communicated across the campuses is one message, one voice," he said.
Johnson holds a bachelor's degree in English literature, a master's in humanities specializing in medieval to baroque studies and a doctorate in humanities. He's pursuing another degree in institutional research in higher education.
Lupardus has worked for STLCC since 2001. Three years ago, she was elected to serve a four-year term on the Missouri Council for the Certification of Educations as a representative for the Missouri Community College Association. She holds bachelor's and master's degrees in education and a doctorate in educational leadership.
"I am very appreciative of all those who participated in the hiring process to date – the excellent job by the screening committee, the exemplary work of the committee's co-chairs (Keith Fuller and Sarah Fielding) and the input we received from faculty and staff from the campus forums and interviews conducted by the college's Leadership Team," Pittman stated.