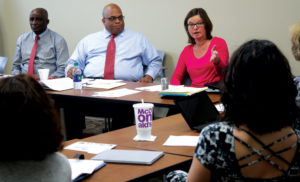 By Samantha Higgins
The Scene staff
Interim president Roderick Nunn is leaving Forest Park to fill the long-vacant position of vice chancellor of student affairs in the St. Louis Community College district office.
"I'm excited to be part of the strong student affairs team and am looking forward to working passionately to improve the welfare of our students," said Nunn, who has led the Forest Park campus for nearly two years.
He formerly served as the college's vice chancellor of economic development and workforce and directed public workforce systems for three governors in Missouri and Illinois.
"For me, it's always been about where I can make a difference and use my skills to better the community," he said.
Nunn's promotion coincides with an STLCC reorganization that will replace presidents with provosts on its four campuses.
Eight candidates now are being vetted by students, faculty and staff through public forums.
STLCC Chancellor Jeff Pittman appointed Nunn to the district job.
"I'm very excited that he agreed, and I can't wait for him to start," said Pittman, who recently finished one year on the job, coming from Ivy Tech Community College of Indiana.
Nunn has developed a reputation as a president who gets to know students and works closely with them. He was praised by Diamond Jones, 20, president of the Forest Park Student Government Association.
"I think that he's an amazing person, and any chance for him to get a step ahead, I think that he should take it because he deserves it," she said. "He was hard working and was a great, great president on this campus, and he helped out student government a lot."
Angela Johnson, 53, also spoke highly of Nunn. She's a traveling tourism major and Forest Park employee who is evening operations coordinator and works in Nunn's office.
"I personally think he's done a great job here on campus as our president," she said. "I am so disappointed he's leaving. He's truly going to be missed."
Johnson served as SGA president during the 2014-2015 school year and worked closely with Nunn.
"Getting the students in the door, keeping them here, making sure they are retaining what they are learning so they can graduate … To me, that has been his biggest goal here," she said.
Christy Hart, campus auxiliary services manager, met Nunn before he came to Forest Park.
"I've seen him interact with students and staff, and his commitment for students is impressive," she said.
Nunn holds a bachelor's degree in music from Southern Illinois University Edwardsville, a master's in public administration from University of Illinois Springfield and a doctorate in management from the University of Maryland-University College as part of its Community College Policy and Administration Program.
Nunn will start his new job April 1. Pittman and Nunn agree he will continue to focus on students as vice chancellor of student affairs.
"We need to create the best student experience we can across the board, from the minute they walk in to their graduation," Pittman said.
"My main goal is that when students experience STLCC, they are better than when they came to us," Nunn said.
STLCC officials expect to name a Forest Park provost by July 1. The Florissant Valley and Meramec campuses also will replace presidents with provosts. The Wildwood campus will get an associate provost.
"The provost model is a model that increases student interaction, increases student services and should bring students closer to administration by decreasing administration," said Keith Fuller, a staff attorney for the college and co-chair of the Campus Provosts/Associate Provosts Search Committee.
The committee chose eight finalists for the four positions. They toured campuses March 23-25 and participated in forums with students, faculty and staff, who were invited to share their impressions. Johnson hopes they will.
"I think more students need to come forward, speak up and use their voices," she said. "Students don't realize the power that they do have here on this campus because they don't open their mouths. A closed mouth can't get fed."