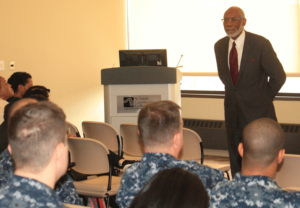 By Samantha Higgins
The Scene staff
Historians have largely ignored the important work of black people who fought in the American Revolutionary War and helped found the United States in the 1700s.
That was the argument made by Forest Park counselor Allen Jones in his recent lecture on "The Black Founding Fathers."
Jones maintained that much information in textbooks is incomplete, misleading or mistakenly gives credit to undeserving people when it comes to early U.S. history.
"There was a political imperative tied into the founding of the country in which the purpose was to keep African people at the bottom rung of society," said Jones, 67, who also has taught personal development courses for the past 25 years.
About 40 students, faculty and staff gathered at Café East for the Feb. 17 lecture, which was part of the college's Black History Month celebration.
"It's important to have a comprehensive view of Africans in this American life," Jones said. "It's important to know where we came from."
General transfer student Diamond Jones, 20, attended as a representative of the Forest Park Student Government Association.
"I loved the presentation," she said. "It was good to know our true black history. It's important to know who we are."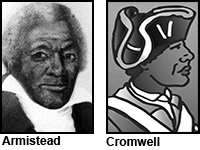 Diamond Jones was surprised to learn that some historians believe blacks were among England's early kings and queens.
"So much is covered up," she said.
Allen Jones talked about several black heroes who helped the Continental Army win the Revolutionary War. One was James Armistead, a slave who posed as a runaway to infiltrate enemy operations.
"He actually was an agent," Jones said. "He spied on the British, leading to American victory (in the Battle of Yorktown)."
Jones also spoke of Prince Whipple.
"He was actually the third son to a wealthy Ghanaian family, who came to the states to receive a Western education, but he was sold into slavery," Jones said.
Whipple fought alongside his master, Gen. William Whipple, in the Revolutionary War. Some believe he was one of the rowers depicted in the iconic painting "Washington Crossing the Delaware."
Then there was Oliver Cromwell, a free black man who fought in several Revolutionary War battles. Gen. George Washington signed his discharge papers and gave him a medal.
"He received an Army pension, but later lost it and died in poverty," Jones said.
Several students at the lecture had attended previous talks by Jones at the college.
"I came to learn," said general transfer student Demarco Biggs, 20. "(Jones is) always a good presenter. I was shocked to hear King Arthur was black. To get this confirmed was very surprising."
Jones had argued that King Arthur, a British leader in the late 5th and early 6th centuries, was a black man falsely depicted by historians as white.
Jones brought up European history in his lecture because of its effect on American history and because he thinks it shows many of the same anti-black biases.
"The end product of America is a mosaic of other nation's activity," Jones said. "Teaching and presenting with isolation is giving an inaccurate view on history."
Jones also spoke about white control over the modern U.S. social and political structures, which he believes has led to the downfall of black people in America.
"There is no racial tension, just racial oppression," he said.
Jones pointed out that many people in the black community are not aware of the great contributions of black men to American government, culture and life in the past 200 years.
"The tendency has been to talk about the same people, such as Rosa Parks and (Martin Luther King), over and over," he said.
Jones ended his lecture by emphasizing the importance of educating the public and raising awareness of lesser known black history.
"If you don't have the facts," he said, "you're only working on presumption."