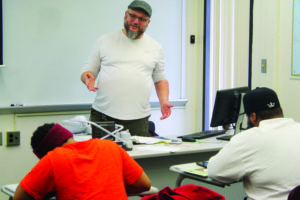 By Chris Cunningham
The Scene staff
English professor Ron Hughes debated his outfit choice before his first day at Forest Park 23 years ago. He never liked wearing pants and decided to go with shorts instead.
"I figured, 'If they fire me because I am wearing shorts, this isn't the kind of place I want to work,'" said Hughes, now 55. "People raised their eyebrows, but they didn't say anything."
Hughes continued to wear shorts, largely unchallenged.
"I was told one of the administrators was commenting to people that he was going to get rid of the guy in shorts," he said. "But I am still here, and he is long gone."
Now Hughes' shorts are something of a trademark, along with his salt-and-pepper beard, glasses and ivy cap.
"My favorite thing he does is wear shorts all year long, and it depends on the temperature posted on his door," English instructor Zita Casey said with a laugh.
Hughes' attitude toward clothing goes hand-in-hand with his teaching philosophy: One approach doesn't work for everyone.
"I try to help as many people as possible, in whatever ways are necessary," he said. "Sometimes the way that is necessary isn't what you would expect. You have to play it by ear. Applying a one-size-fits-all approach can be a disaster."
Tim Meyers, a former student in Hughes' creative writing class, remembers how Hughes tailored it to student interests.
"That semester, a lot of people liked poetry," said Meyer, 24, who now lives in Detroit. "So we spent a lot of time workshopping poems."
Colleagues also seem to admire Hughes' efforts.
"I can tell he cares very deeply about his students and that they get a high-quality education," said English instructor Michelle Parrinello Cason.
Outside of class, Hughes is writing a novel titled "Helmet" and a one-act screenplay.
The novel is set in a dystopic universe, where President George W. Bush chokes to death on the pretzel that got stuck in his throat in 2002 instead of surviving.
"The title of the book sparks from the idea that if you have a helmet and you are plugged into the central brain, if something goes wrong, we can help you," Hughes said. "It starts after George Bush choked on the pretzel. If only he had his helmet on."
Hughes wrote about 200 pages of the novel before getting stuck on how to finish it. Now, he's back on track.
"If you let it sit for a while, one day you wake up and go, 'I can do this,'" he said.
Hughes was born in Altoona, Pa., to Ron and Patricia Hughes. His father worked in a factory, and his mother was a respiratory therapist.
Hughes and his two younger brothers, Mike and Tim, fought like "Rock 'em, Sock 'em Robots," but they were also protective of one another.
"We didn't get along when we were all together and no one was bothering us," Hughes said. "But as soon as someone from the outside started giving us trouble, we said, 'No one messes with my brother but me! I can beat up my brother, but you can't.'"
Hughes didn't plan to teach when he graduated from high school. He worked in the same factory as his father, making toasters, and later became an electrician at a shipyard in Norfolk, Va.
"The pay was good," he said. "But I would always joke that I got tired of the engineers saying, 'You can just put the wire there,' as they backed away."
The shipyard company paid for Hughes to take electronics classes at Old Dominion University, but he found them boring. He decided to pursue a career he would really enjoy.
"The only thing I cared about was writing stories with my friends," he said. "As soon as I started taking English classes, I thought, 'Yeah, this is what I want to do,' even though I knew I wasn't going to make any money, which I didn't."
Hughes graduated with a bachelor's degree in English in 1991 and a master's in English in 1993 from Old Dominion and a master's in poetry in 2000 from University of Missouri-St. Louis.
He has two sons, Russell, 26, who has a computer animation degree and works at Creve Coeur Camera; and Harley, 24, who is studying engineering at Missouri University of Science and Technology.
Hughes' girlfriend, Carmaletha Harris, works as a caregiver. He spends much of his free time gardening.
"Gardening gives you time to contemplate," he said. "When you are out there messing around with the plants, no one really wants to mess with you."
He grows tomatoes and peppers every summer.
"It only takes a season, and you have something you can hold in your hands and eat," he said.
Hughes also works as a doorman every other weekend at Ballpark Village, which is similar to his college job as a bouncer in bars.
He gets tired of dealing with drunk people but likes the Ballpark Village job more than he used to because it's less violent.
"Now, because of lawsuits, it's hands off," he said. "Just get them out of there with as little force as possible."