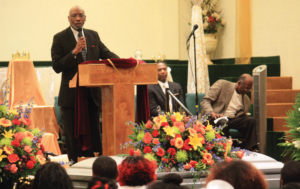 By Chris Cunningham
The Scene staff
Forest Park culinary student John Johnson died after having a seizure on campus earlier this month.
Johnson, 39, collapsed during a talk by researcher, author and social activist Joy DeGruy in the Mildred E. Bastian Center for the Performing Arts.
"The only thing we can confirm is the student had medical issues, was transported by the campus police by EMS and died at a nearby hospital," said Forest Park Police Chief Richard Banahan.
Johnson suffered from epilepsy, a neurological disorder that causes seizures, according to family members. He was known for his long, colorful dreadlocks with beads.
Forest Park Marketing and Communications coordinator Brittney Aladegbami also attended the talk. She was outside the theater when Johnson collapsed.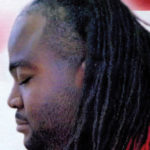 "Campus police were already in the theater because it was a late night talk," she said.
It was a scary scene for friends and bystanders.
"When something like this happens, you don't expect it to be a fatality," Aladegbami said.
DeGruy later wrote about the incident on her Facebook page, recalling that Johnson "asked great questions" and showed "real insight" at the talk.
DeGruy criticized paramedics, claiming it took them 20 minutes to arrive, and claimed that firefighters made inappropriate remarks and showed "disdain" for Johnson.
"We stayed until John was put into the ambulance," DeGruy wrote. "We learned today that he remained in the ambulance for over 30 minutes before being taken to a nearby hospital."
St. Louis Fire Capt. Garon Mosby said this week that his department hadn't received any complaints about the incident.
He reported that emergency medical personnel arrived at the theater seven minutes after they were called at 8:49 p.m. March 2 and left 47 minutes later.
"Depending on nature of emergency, they have to call in additional help to move the patient," he said.
"It is always in best interest of patient for medics to stabilize patient in back of ambulance prior to transporting. … It is a misconception that once you are loaded in medical unit you can just go."
After Johnson's death, a large sign with his photo was displayed in the Student Center lobby, inviting students, faculty and staff to his visitation on March 13 at Reliable Funeral Home in St. Louis.
The funeral took place March 14 at Communion Church Ministries in St. Louis County. A packed crowd listened to speakers, including Forest Park counselor Allen Jones.
"Junior had great insight about life and what mattered to his generation," Jones said later in an interview.
Jones was Johnson's godfather. He had been friends with Johnson's father, who died last year.
"John was returning to school, and he had love of culinary," Jones said. "His love was not just being at school for vocational purpose, but to broaden minds of students."
The funeral was attended by Jamalia Lott, 37, who became friends with Johnson when they attended Metro High School, where he placed first in a state Shakespeare acting competition. She said he had a "contagious laugh."
"At Metro, everyone knew everyone, and when you heard his laugh, you knew it was him," she said.
Johnson also was a minister who co-pastored at True Fellowship Church, according to his obituary.
"John accepted his call to the ministry when he received salvation at the age of 11," it stated. "He served in the capacity of prophet, youth minister, musician, choir director, finance committee person and the church's newsletter editor."
Johnson was described as an "intellectual bookworm nerd," who also enjoyed cooking, baking and the arts.
In 2008, Johnson founded Sweet Tooth Creations, making desserts and pastries for weddings, shower and other special events and contracting with restaurants.
"In addition to operating his own business, he drafted resumes, created logos and created the Facebook page for his church," the obituary stated.