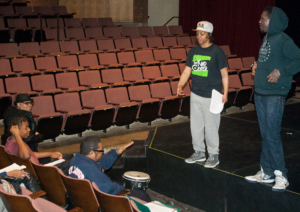 By Rylie Frohock
The Scene staff
Most students understand the frustration of dealing with the college bureaucracy on a whole range of issues.
Music major Kristian Houston, 29, decided to share her experiences with Forest Park students by writing and performing a play called "Kollege the Musikal."
It covers several challenges she has faced over the past six years. The biggest was last semester, when she was dropped from all of her classes, despite the fact she had registered in the spring.
After Houston reregistered and reapplied for financial aid, she was dropped from two more classes. She repeated the process before she had a full course load. By that time, her financial aid was messed up.
"Out of all the things we go through in life, going to school and choosing to stay in school is the hardest," Houston told students in Donald Cusumano's Psychology 200 class while promoting the performance. "And then, when you don't have the funds to get in school, that's like, 'Oh, whoa, where do I go?'"
"Kollege" will be performed from 7 to 9 p.m. March 4 in the Mildred E. Bastian Theater for the Performing Arts. Admission is free.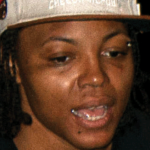 Houston is a keyboardist for a reggae band called The Majestic Lions and formerly was involved with the hip-hop label Nasty Rebels. She enrolled at Forest Park in 2010 to study music.
"I wanted to be better at my craft," she said. "I wanted to perfect my craft."
The eight cast members in "Kollege" are people Houston has worked with over the years. The musical features eight original songs, written by Houston and friends, including Thomas Zirkle, assistant music professor. Accompaniment will be provided by her old producer, Carlito Doss.
Ryan Martin, a financial aid officer at Forest Park, became concerned when he heard about "Kollege."
"I was under the impression that this was another complaint toward financial aid and/or the administrative processes of the college," he said. "But given what I've been told by Ms. Kristian with regard to the twist, it should be a positive surprise."
The idea for "Kollege" came after Zirkle asked Houston to perform at one of Forest Park's Friday concerts. Instead, she decided to write a musical.
Houston wanted to make a statement about college life but not demonize the Financial Aid office.
"I understand the frustration, and I understand the initial, 'What?'" she said. "But I deal with customers in my job all the time. I'm a server (at a restaurant). Customer service is what I do. And I do realize that we are quick to complain, yet we're not quick to say when things are OK.
"I also wanted to let (Financial Aid) know that 'Hey, everything is OK,' and 'Thank you, now let's get this story out here. Let's tell somebody else.'"
Houston continued to attend classes at Forest Park, even after she had been dropped and while she was working out financial aid problems. She tried to keep a calm and positive demeanor.
Problems with student loans and other financial aid are common at Forest Park, but people handle the stress differently.
Mia Seals, 27, secretary in the advising office, has seen students get really upset over losing financial aid. Her experiences with Houston were more pleasant.
"If you're sweet and nice, you will get what you want," Seals said.
Lallie McDonald, an educational assistant in counseling, added that Houston "is the picture of persistence. She kept a positive attitude, and I am so super proud of her."
"Kollege" is Houston's first musical, but her years in the music business helped her with the songwriting.
All of the songs, with the exception of "Swagger Spectacular" and "DJ Squirmy," were written before the script. Houston collaborated on "I am Love" with the late Ronald Pittman (stage name "King Omowale"), a former Forest Park student who founded The Majestic Lions.