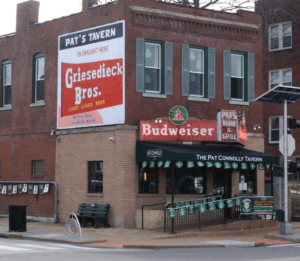 By Chris Cunningham
The Scene staff
Ken White lives in San Francisco, but he came home to St. Louis recently for his father's funeral and felt he had to stop by the Pat Connolly Tavern.
One of his favorite memories is celebrating St. Patrick's Day at the Dogtown bar and restaurant, which is on Oakland Avenue, less than a mile from the Forest Park campus.
"My grandpa and dad lived in U. City, and we used to come here all the time," said White, 44. "It's one of my favorite bars."
Pat Connelly's has been a hotspot for St. Patrick's Day revelers since it was opened 74 years ago by an Irish immigrant. It still offers Irish music on the second Wednesday of each month.
The interior hasn't changed much, either. It has massive woodwork and high tin ceilings. Walls are covered with historic photos.
"We take pride in being one of the few bars left that is original," said owner Joe Jovanovich, 33, Connelly's grandson. "You can probably count on one hand the number of bars in St. Louis that still have all their same woodwork."
Jovanovich acknowledges the limitations of an old establishment, such as only being able to serve 10 beers on draft, but the benefits are worth it.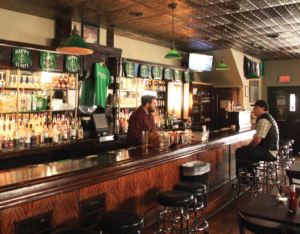 "You can't put a price tag on that kind of history," he said. "If you are looking for a more classic, old-time feel … That is the look we are going for."
The Dogtown St. Patrick's Day Parade starts across the street, on Wells Drive near the St. Louis Zoo.
"For St. Patrick's Day, it's about providing people with a convenient way to sit back and watch the parade with a drink in their hand," Jovanovich said.
Pat Connelly's will open at 6 a.m. on St. Patrick's Day, March 17. A tent will be set up outside, offering breakfast plates, DJ music all day in the restaurant and Irish music upstairs in the evening.
Every day of the year, the bar and restaurant focuses on serving traditional bar food but at a higher quality.
"From the get-go, we were really well known for fried chicken, fish and shrimp," Jovanovich said. "And I'd like to think people still think of us of one of the best places in town for that type of food."
The menu also includes lighter options, such as a veggie burger and salmon burger.
In addition to Irish music, the restaurant features jazz the first and third Thursday of the month and blues the last Friday. An upstairs room is used for private parties and overflow seating.
Thursday is Student Night with $2 domestic beers and $3 draft beers, well drinks (generic brands) and select calls (mid-grade) for college students after 10 p.m.
Pat Connolly opened the tavern in 1942 after moving to America from Ireland in 1927.
"It used to be back in the day that bars were strictly bars, and they didn't have food," Jovanovich said. "This was one of the first bar and grills in the neighborhood. That's what I have been told."
Connolly sold the business to Tom McDermott in 1960, and it operated as McDermott's until 1980, when Tom sold it to Joe's parents, Teresa Connolly and Paul Jovanovich.
Paul died in 1993, and Teresa ran it seven more years before selling it. Last year, Joe and his mother bought it back.
"I was working in a totally different field, nonprofit management, but I decided it was worth preserving that family legacy," Jovanovich said.
Pat Connelly's has many regular customers. That includes Ruthanne Dunn, 73, and Jim Gross, 86, who were sitting in a booth eating fried catfish on a recent Friday afternoon.
"I have been coming here since 1960," Dunn said. "A lot of times, we get the special or the fried chicken.
"I've never been here on St. Pat's Day, because it is usually too hard to get in. I used to come to the parade, but it is too hard, and I am too old now."