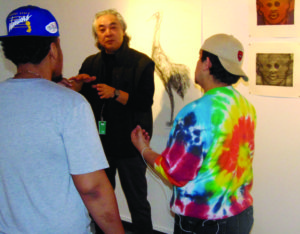 By Rylie Frohock
The Scene staff
Most pieces in the Leon Hicks exhibit at the Forest Park Gallery of Contemporary Art date back to the 1960s and '70s, but they still appear raw and fresh to many students who have viewed them.
The prints, figure drawings and engravings were created by Leon Hicks, 82, a retired professor who formerly taught at Webster University in St. Louis. He now lives in Florida.
"(The artwork is) about life, liberation and the evolution of our country," he said in a telephone interview. "It's not for me to really say, but I made a critical decision to not just be in the moment. You can almost look at my journey and see that I reflect the evolution the country has gone through."
Art professor Yingxue "Ying" Zuo, who also serves as gallery director, curated the exhibit to help celebrate Black History Month. He and Hicks worked together at Webster from 1991 to 1999.
Ying noticed that Hicks was not only an exceptional printmaker, but also a very talented copper-plate engraver, which is Hick's favorite medium.
"Engraving is very difficult," said Ying, 62. "To carve directly on the metal surface, it's difficult. The accuracy of the lines and the expressions are beautiful."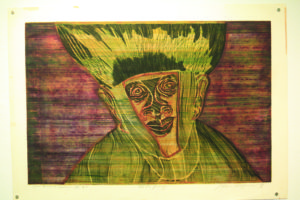 Ying took students in his Drawing 1 class to the gallery earlier this month. Student Neal Neuman, 69, liked Hicks' background technique in "New Faces Series #1," a print drawing of a human face.
Classmate Alcee Polk, 70, favored a print called "Wing Justice." He liked the color, contrast and the way a woman's hand is positioned, as if she's holding a bird.
"It just kind of jumps out at you," he said.
Ying borrowed 32 of Hicks' pieces for the exhibit, which runs through Feb. 25. "Wing Justice" is his favorite for the same reasons Polk cited, as well as its imagery and facial expressions. It's on the exhibit's promotional fliers.
Ying, who grew up in China, finds the artwork of many African American artists interesting.
"They have a very strong, primitive feeling," he said.  "The way they produce the work is more direct and relatable to human nature."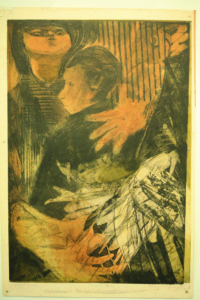 Hicks grew up in the "swamps of Gainsville" and got interested in art in grade school. He washed dishes at the University of Florida before joining the U.S. Army in 1953. He then studied art at Stanford University and in Italy.
Hicks went on to teach at five colleges across the country, beginning at Concord University in 1965, when its faculty was just becoming integrated.
He created most of the pieces in the Forest Park exhibit while at University of Iowa.
"It was semi-liberated in the reception of blacks, similar to Illinois and Missouri," he said.
Hicks taught 25 years at Webster, where a scholarship was established in his name by friends and family when he retired. This year, it awarded $1,000 to fine art students.
While in Missouri, Hicks also was active in the Missouri Art Council and served as a trustee for St. Louis Art Museum. He's proud of his body of artwork, and he still finds it interesting how people interpret and react to it.
"I often tell people that I reflect an individual who was raised in the code of Anglo-Saxon and black spiritual ethics and morality," he said. "So I had that attitude of pulling yourself up by your bootstraps."
Hours at the Forest Park Gallery of Contemporary Art are 10 a.m. to 2 p.m. Mondays through Thursdays. It's in the library building. Admission is free.
Hicks has a simple piece of advice for aspiring young artists:
"I can teach you how to make art, but I can't teach you how to be an artist. … You need to learn how to see."