By Chris Cunningham
The Scene staff
Members of the Forest Park Student Government Association members had an eye-opening experience this month, delivering Christmas gifts and volunteering at a homeless shelter.
One of the hardest parts for Treasurer Leslie Johnson, 55, was seeing a little boy ask for seconds on dessert in the soup kitchen at The Bridge Outreach.
"Seeing the adults ask for seconds was really tough, too," she said.
SGA is one of three campus groups giving to those in need this holiday season. The two others are the radiologic technology graduating class and the Early Childhood Educator's Circle.
SGA raised $324 at the popcorn stand in the Student Center lobby and used it to buy items for the homeless. That included socks, tissues, face towels, deodorant, toothpaste, soap, mouthwash, gloves and hats.
SGA members put the items in bags labeled "hygiene" or "clothing" and handed them out at The Bridge Outreach, a homeless shelter on Olive Boulevard.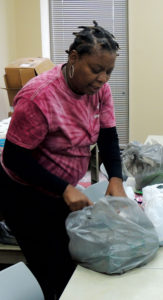 "It turned out to be really nice, and everyone was really appreciative," Johnson said.
Beyond the gift-giving project, Johnson thought volunteering in the shelter's soup kitchen would be a good way to introduce SGA members to volunteerism.
"I wanted students to have experience of helping someone," she said. "This is the giving season, just giving something of value even if you don't have money."
The experience made SGA President Diamond Jones, 20, want to start volunteering once a month. Like Johnson, she found the homeless people to be very appreciative.
"They were saying 'Thank you' and 'God bless' for helping out," she said. "That really touched my heart. It really touched my heart to see people that don't have anything are more graceful than those that do."
Radiologic technology students graduating in 2016 collected toys last month. Every year, the department's graduating class takes on a volunteer project.
"It's just a way to give back to the community, helping children over the holidays," said Maryam Thabet, 25, this year's project leader.
The group donated the toys to homeless shelters in St. Louis.
"We had a ton of meetings before and after class for this project," Thabet said. "It's worth it to give back to the community."
A student club called Early Childhood Educator's Circle collected non-perishable food items for the Early Childhood Education Center at Caroline Mission, a non-profit that prepares at-risk children for kindergarten.
"Community service is one of the primary goals of the club," said sponsor Dahna Willis, an assistant education professor. "We know there are families in need at this time of the year, so we figured this would be a great way to address problems the community faces."
Club members didn't count the number of items collected, but they filled a 75-gallon barrel.
Donating the items to Caroline Mission was an easy choice for Willis.
"We have many of our students and grads who work there," she said. "The director of the program, Denise Carter, is a graduate of Forest Park. I have many students who are already members of their faculty. We know that particular program represents an area that needs help."
The club is also collecting caps, hats, scarves, gloves and mittens for Caroline Mission through Dec. 15. Items can be put in a collection bin outside of F-311.