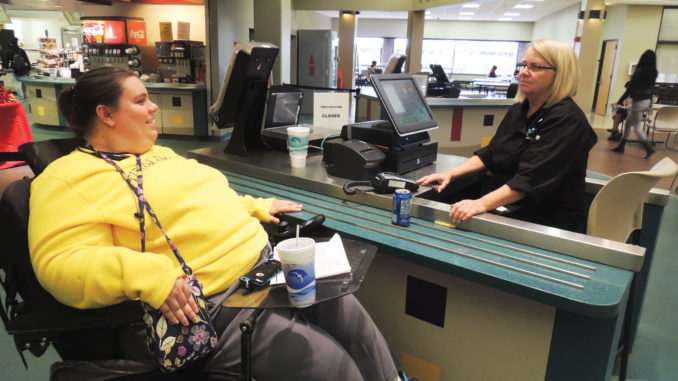 By Samantha Higgins
The Scene staff
Paige Karius has cerebral palsy, but that doesn't keep her from being active and accomplished at Forest Park.
The 21-year-old general education student is founder and president of the Disability Awareness Club, promotions manager at The Scene student newspaper and a former member of the Student Government Association.
She recently became the Forest Park recipient of the Missouri Community College Association Student Leadership Award.
"I wasn't expecting anything like that," Karius said. "I just go on about my day and do what I do, and because of my disability, people find that extraordinary."
Karius is well known on campus. She zips around in her wheelchair, going to classes and stopping to chat with friends. The wheelchair has a book bag strapped to the back and a tray table in front.
Interim President Roderick Nunn chose Karius for the award, which goes to one student at each community college in the state.
"She is one of our most dedicated students, as evidenced by her service to others," he said.
Karius was diagnosed with cerebral palsy at birth. The neurological disorder affects body movement and muscle coordination.
Karius used to be annoyed when people treated her differently, then she realized that many simply weren't informed. That's why she founded the Disability Awareness Club with sponsor Lallie McDonald last year.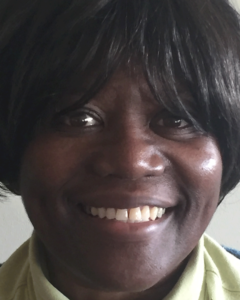 "In the short time Paige has been a student here, she has really shown a lot of positive energy, a lot of drive and, for lack of a better word, a lot of gumption," said McDonald, an educational assistant in counseling.
Off campus, Karius has volunteered with the Ronald McDonald House and Paraquad, an organization that helps people with disabilities.
"She's not afraid to ask for assistance when needed, but she's very quick to offer help," Lallie McDonald said.
Karius lives in St. Louis with her parents and 14-year-old sister. She received her award at a Nov. 6 banquet.
Her main goal with the Disability Awareness Club is to change the way students, faculty and staff view people with disabilities.
"The one thing I want people to know about people with disabilities is, we are all capable of doing things," she said. "People put us down to a lower standard, and that isn't fair. Don't make what you can't do get in the way of what you can do."