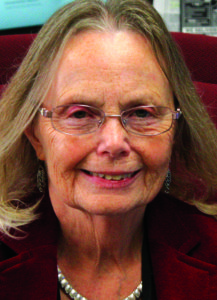 By Samantha Higgins
The Scene staff
The biggest change at community colleges in the past 45 years is what students are studying.
That's the conclusion drawn by Elizabeth Wilcoxson, 70, interim dean of Business, Math and Technology at Forest Park, who is retiring in December.
When she started her career as an adjunct in 1969, 80 percent of students were studying liberal arts and 20 percent were in career training programs, she said. "That's pretty much reversed now."
Wilcoxson also has witnessed massive changes in technology, which have greatly impacted education, she said.
Have the changes been positive?
"Yes and no," she said. "Largely, yes, but sometimes people become so dependent on technology that they stop interacting with people."
This will be Wilcoxson's second retirement. The first was in 2010, when she left Northern Essex Community College in Lawrence, Mass.
She expected her stint at Forest Park to last a year, but it turned into four years.
"She has been a stabilizing force for us in academic affairs," said Forest Park Interim President Roderick Nunn. "After many failed searches, we were able to get her, and when we had another need, she met it."
Wilcoxson started her career as an adjunct faculty member at North Shore Community College in Beverly, Mass. She was still working on her doctorate at the time.
After graduation, Wilcoxson taught history for 25 years and served as an administrator for 15 years at Northern Essex Community College.
A year after her retirement, Forest Park was looking for an interim dean of Humanities and Social Sciences.
"I called and was told to email my resume, so I got my resume together and sent it off," she said. "Less than an hour later, I got a call and was offered the job."
Wilcoxson left her home in Massachusetts and rented an apartment in St. Louis.
"I've loved living in the city," she said. "I immediately joined the Missouri Botanical Garden and the Zoo. I've appreciated all of the culture."
Wilcoxson planned to return to Massachusetts after a year. But Forest Park officials asked her to stay on as interim dean of Business, Math and Technology, which she has done for seven semesters.
Wilcoxson has been instrumental in several campus projects, including development of a training program for department heads.
Mostly, she has tried to increase trust between professors and administrators.
"I've been very happy with the colleagues I've had," she said. "I think the deans have developed a good relationship, and the faculty are great, and the students are great."
A little-known fact is that Wilcoxson is an avid jogger who also loves books and animals.
But nothing takes precedence over her job, according to Vincent Featherson, dean of Allied Health, Natural Sciences and Physical Education.
While jogging one morning, "she lost her balance and fell and hit her face, but she came to work anyway," Featherson said.
"When she got here, one of her eyes was entirely black and blue, and we were asking her why she came in. She said for one she had some things to do, and that shows that she takes her job very seriously."
Looking back at her 45 years in education, Wilcoxson has experienced the most joy watching the growth of students and faculty.
"The contact who got me this job was someone I hired as an adjunct," she said. "Then I watched him grow into a (full-time faculty member) then an administrator, dean and vice president."