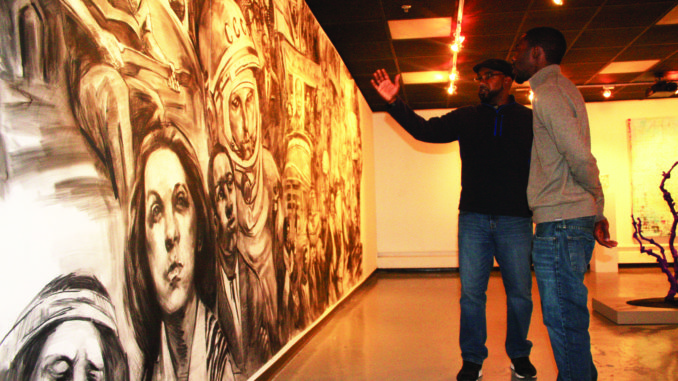 By Chris Cunningham
The Scene staff
Terrell Carter has a resume that demands a double take: Police officer, author, artist, college professor and leader of a non-profit organization.
The common thread is creativity.
"It's what I am built to do," Carter said. "Every time I think I am going to sit still and do nothing, there is something inside me that forces me to strive and accomplish something."
Carter, 42, is an adjunct faculty member in art on the Wildwood campus of St. Louis Community College and executive director of North Newstead Association, a non-profit organization that works to provide affordable housing and family services.
Earlier this year, Carter published a book, "Walking the Blue Line: A Police Officer Turned Community Activist Provides Solutions to the Racial Divide," through Bettie Youngs Book Publishers.
Carter's art usually takes the form of oil and pastel paintings and monoprints. At Wildwood, he's known for encouraging young students.
"He thinks of people other than himself," said Sean Frye, 46, who also teaches art. "If you need something, he will come through for you. He is a really charitable guy."
Also this year, Carter organized a Forest Park exhibit called "Good Negroes," inspired by the Michael Brown shooting in Ferguson and its aftermath.
"Since Mike Brown, my work has dealt with me being African-American," he said. "I started thinking about what subject matter I could work on. (The exhibit) is about what it means to be black in St. Louis. What do people expect from us?"
"Good Negroes" made Forest Park art professor Yingxue Zuo, 63, a Chinese-American, think differently about culture and conflict.
"It dealt with how some people have a hard time dealing with others from different cultures," he said. "It brought people's attention to this issue. It continues to hurt us, and we have to resolve this issue some way."
Mother's murder

Given Carter's accomplishments, it's hard to believe his life had such a rough start. His mother was murdered when he was 7.
A man stabbed her as she was being robbed in her car in St. Louis. The only witness was a 5-year-old girl, whose mother wouldn't allow her to testify against the police's only suspect.
Carter, who talks openly about the tragedy, says that for all he knows, the murderer "is in St. Louis living his life."
Carter and his twin brother were living with their grandparents at the time.
"When she was killed, it brought up a lot of questions," he said. "My grandparents did an outstanding job of loving us, though, not to undermine it. That allowed us to achieve everything we wanted."
When Carter was 14, his estranged father moved the brothers from St. Louis to Texas. Carter returned home after high school and began studying art at Forest Park in 1993.
The campus has changed a lot in 22 years.
"Forest Park is a much more international campus now, a much more diverse campus," Carter said. "There are more opportunities to learn online than when I was a student."
Carter became interested in art when he was about 7.
"One of my uncles showed me a picture that (my father) drew," he said. "I decided that because my father could draw, I would become an artist, too."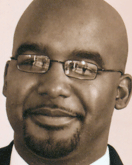 Finding opportunity

Carter attended Forest Park for four years, rotating between part time and full time. By 1997, he was working construction and raising his son as a single father with full custody.
"I prayed that some kind of door would be open," he said. "Two days later, I heard about an ad for the police department having job openings."
Carter hadn't had any positive interaction with police officers, except for his best friend's father, who encouraged him to take the opportunity to support his family and finish school.
Carter knew the job would be challenging.
"In order to be a successful police officer, you need a certain mentality," he said. "You have to be able to deal with constant stress and constant uncertainty. In addition to that, the system of the police officer isn't fair."
Carter worked as a St. Louis city police officer from 1997 to 2002. He resigned after testifying against his partner, who was accused of planting drugs on someone and falsifying a report.
"I couldn't testify to send someone to prison for something they didn't do," he said. "As soon as I did that, I knew no police officer would want to work with me. I had to quit because I knew it wouldn't be safe for me."
Carter earned his bachelor's degree in biblical studies and organizational leadership in 1999 at Calvary Bible College in Kansas City and a master's in fine art in 2006 at Webster University. He began working at Forest Park in 2009 as a part-time instructor and gallery director.
"He was very intelligent and very active as gallery director," Yingxue said. "He reached out to a lot to the community and artists."
Yingxue felt Carter's training as a police officer served him well in the college environment.
"When you work with him, you feel very comfortable," Yingxue said. "The way he communicates with people, you feel he respects what you say and he really pays attention. I'm a different person. I like to insist my point, but he is great at listening first."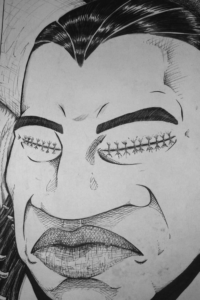 Different perspective

Carter formerly served as executive director of CREATE Inc., a non-profit that provides services for senior citizens in St. Louis. He began teaching at Wildwood in 2011.
Carter frequently notices how racial misunderstanding and prejudice can lead to social inequality. He gave the example of an interview at St. Louis University.
"I was told that one of the reasons I didn't get the job was because I didn't ask enough questions," he said. "But I figured if I did, I would be perceived as the angry black guy."
Carter also recalled a time he was pulled over in the parking lot at Ronnie's movie theater with his children because of what he considered racial profiling.
"A police officer stopped me and told me my license plate didn't look right," he said. "I told the police officer I was a former police officer and that I knew what he was up to."
Carter believes a core problem with policing in America is that the system isn't set up to help people.
"Your job is to answer radio calls," he said. "If you could take 10 extra minutes, you could help find a family a resource that could do a lot of good, but you are encouraged to get them to stop calling 911, so you can get to the next radio call."
Carter isn't opposed to protests against police officers who mistreat black people, but he questions the motives of some protesters. He once heard a leader say he didn't want to do anything to "hurt his brand."
"Are we doing this to become celebrities?" Carter asked.
"I am not questioning whether they love or care about black people. I tried to become involved in the Ferguson Commission. I was told by a member, don't even worry about it because everyone on the commission has their own agenda."