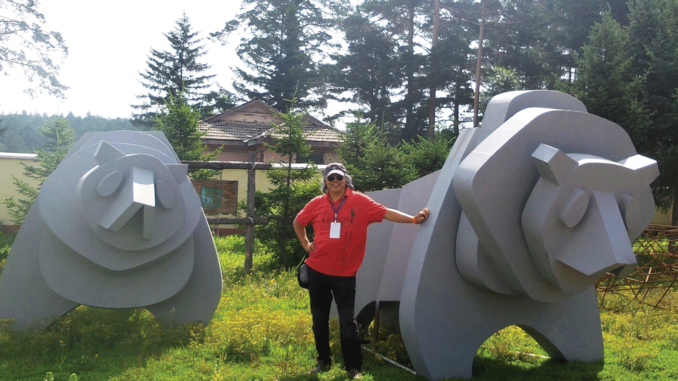 By Chris Cunningham
The Scene staff
Forest Park art professor Yingxue "Ying" Zuo grew up in China, but he returned to his homeland over the summer as a representative of his new country, the United States.
"I feel this was a great honor," he said. "I am very proud of myself. I believe this is some kind of success and achievement."
Ying, 61, of Webster Groves, moved to the United States for graduate school in 1986 and later became a U.S. citizen. He has been teaching at Forest Park for 16 years.
Ying traveled around China from May to August. He stayed in hotels, visited friends and family and taught, created and viewed art.
Most surprising to him is the amount of economic progress made in China in the past decade.
"I have no idea why Chinese developed so fast," he said, speaking with a strong accent. "Infrastructure developed so quickly. There are highways across most of the places."
The rail system in China is particularly exciting to Ying.
"The trains are so fast and nice," he said. "It is so convenient. Before, going from Beijing to Shanghai by train, it would take one day, maybe around 16 hours. Now it's five hours."
Ying teaches Drawing I, Figure Drawing I and several painting classes. For his own artwork, his main medium is oil painting.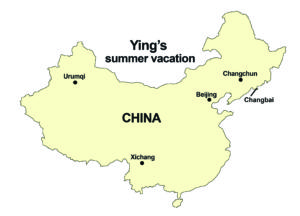 Familiar territory

Ying started his Chinese trip in Changchun, his hometown in Jilin province. He then traveled to Deer Cattle Village for a Pioneer Painting program, in which students painted local landscapes.
"It was exciting," he said. "You've got 100 to 300 students all over the place painting, all people from different schools."
Students were interested not only in art, but a change of pace.
"The city people, they need change," Ying said. "They get fresh air, fresh style, and experience a different kind of life. Farmer's lifestyle is quite different."
Next, Ying flew to Beijing to participate in Across Divides, a program that brought together American, Russian and Chinese artists and professors to create art.
The program was funded by Ning Jiahong, a businessman interested in art.
"After all the activities, we give him one painting," Ying said.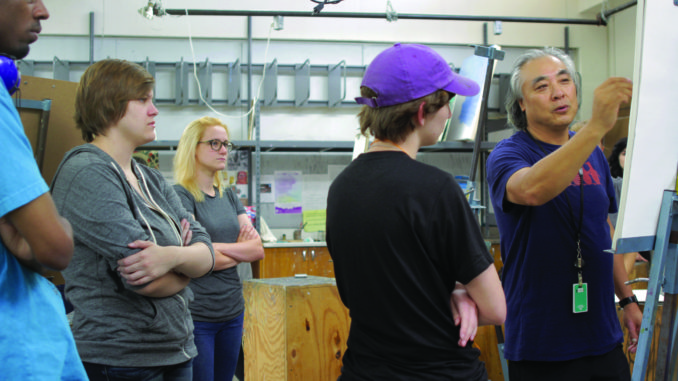 Good publicity

Ying felt that one of the most important aspects of his participation in Across Divides was that his name and St. Louis Community College at Forest Park were displayed on a banner.
"It lets people in the community know that St. Louis has a community college and Ying teaches there," he said. "Faculty members doing activities outside will enhance our college's reputation."
Jamie Kreher, chair of fine and performing art at Forest Park, agrees that faculty participation in such programs is good publicity.
"I think we could do a better job of telling people about our wonderful personnel and their achievements in and beyond the classroom," she said.
Kreher also emphasized the importance of professional development for faculty members.
"You have to continually make art to teach art," she said. "It takes a long time to learn how to make art, and it takes a long time to learn how to teach it.
"You can't just refer to a textbook and say, 'This is how you make art,' especially when it comes to something like personal vision."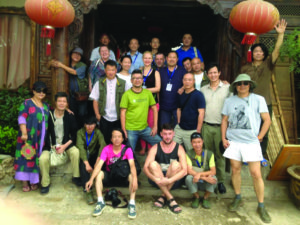 No boundaries

After Beijing, Ying traveled to Xichang in Liangshan, China, to mentor students in a program called No Boundaries. Then he headed to Xinjiang, an autonomous region, to visit a sculptor friend.
Finally, Ying flew to the Chaingbai Mountains, which border North Korea, for the International Sculpture Festival.
"It's not a very tense area," he said. "It is actually a tourist area (with) a lot of beautiful mountains. Sometimes people escape from North Korea and rob and kill people, though."
Ying thinks it would be good to bring more Chinese students to Forest Park because they have strong educational backgrounds and could positively impact American students.
"I proposed this idea to different administrators," he said. "I said, 'It is good time for us to bring some Chinese students here.' Every school is doing this.
"We are always talking about cutting budget. There is a very easy way to solve this. It wouldn't be hard for me to get 20 Chinese students each year. If they pay $20,000 each, that's $400,000."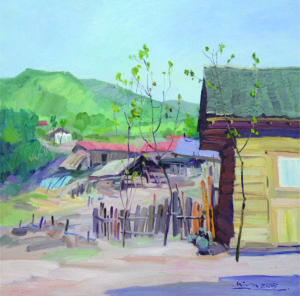 Cultural exchange

In the early 2000s, Ying took Forest Park students on several studies abroad. Fine arts major Trish Turek, 57, spent three weeks with him China in 2001.
"It was amazing," she said. "I always wanted to go to Asia. I was kind of scared, but also excited."
The group studied ancient Chinese painting and painted with a Chinese master.
"We got a taste of not only their food, but their culture," Turek said.
Ying married his wife, Wu Yumei, in 1981. She is a neurobiologist for a private company. They have a daughter, Yingxue Mila, 32.
Ying earned a bachelor's degree at Normal University in Changchun before moving to the United States to get a master's at Southern Illinois University Carbondale. He found attitudes about art to be very different.
"When I came here, there was a lot of abstract, conceptual and performance art going on," he said. "It was very popular."
One incident was jarring to Ying. A fellow student pinned her underwear on the wall at the last minute because she hadn't prepared an assignment.
"Because this is a free country, it allows any ridiculous idea," Ying said. "That is where a lot of good stuff can come out.
"In China, they give you an idea. They tell you, 'This is right. This is wrong.' They give you a lot of restrictions. It is hard to think of new things. A lot of creativity is killed."